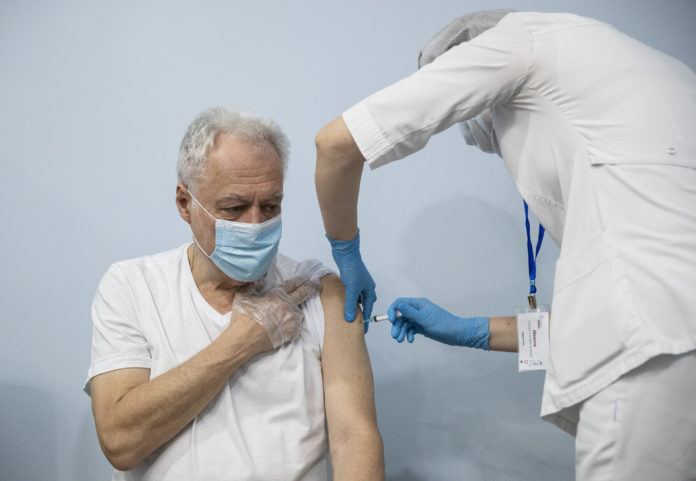 On Tuesday, The Lancet published an interim analysis of the Sputnik V vaccine's phase 3 trial.
The trial demonstrated 91.6% vaccine efficacy and 100% efficacy against severe and moderate disease.
12 countries worldwide will begin vaccination with Sputnik V in the first week of February.
In August of last year, Russia came under fire for starting vaccination among its masses without completing phase 3 trials for its Sputnik V vaccine. However, later on, Russian authorities announced the first interim analysis of its vaccine's phase 3 trial; showing a vaccine efficacy of 92%. But experts argued the review was based on only 20 COVID-19 cases; therefore, marring the announcement with criticism.
Now, results published in The Lancet have confirmed the vaccine's safety and efficacy. According to the study, the vaccine demonstrated an efficacy of 91.6% in preventing COVID-19 and 100% efficacy against severe and moderate infection. This is the first peer-reviewed results published on the performance of Sputnik V.
Sputnik V Vaccine is Safe and Effective
The study evaluated data from 19,866 volunteers who had either received the two-dose vaccine or a placebo. Over 2,000 of these volunteers were above 60 years of age. A further sub-analysis on this age group revealed a similar vaccine efficacy, around 91.8%.
Researchers analyzed the vaccine's efficacy against severe and moderate disease 21 days after the first dose. The placebo group reported 20 cases, while the vaccine group reported none. Thus, revealing a 100% protection against severe disease.
Furthermore, the report did not find any serious adverse reactions in response to the vaccine. Majority of them were mild and included pain at the injection site, headache, and flu-like symptoms.
The Verdict?
Similar to AstraZeneca and Johnson & Jonson, the Sputnik V vaccine is also based on adenovirus technology. A modified version of the common cold-causing adenovirus helps carry the coronavirus spike protein. However, both doses of the Sputnik V vaccine contain different types of adenoviruses. As a way to boost the immune response.
Compared to other vaccines, that are currently in use, Sputnik V remains viable in normal fridge temperatures of 2 to 8 degrees Celsius. Thus, making its storage and distribution easier. Furthermore, Russian authorities claim the vaccine is one of the most affordable in the words with a cost of less than $10 per dose. Around 16 countries around the world have registered for the Russian vaccine. Twelve of which will begin vaccination with the vaccine in the first week of February.
The authors of the study note a need for further research to investigate how long immunity from the vaccine lasts. And the vaccine's efficacy against asymptomatic infection. Moreover, since the majority of the study participants were white, researchers argue that the results cannot be applied across other ethnic groups. The phase 3 trial is still ongoing and aims to include a total of 40,000 participants.
Reference:
Safety and efficacy of an rAd26 and rAd5 vector-based heterologous prime-boost COVID-19 vaccine: an interim analysis of a randomised controlled phase 3 trial in Russia, The Lancet (2021). doi.org/10.1016/S0140-6736(21)00234-8 , www.thelancet.com/journals/lan … (21)00234-8/fulltext