A Case of Sinusitis Causing Facial Pain in a 57-year-old Woman
A 57-year-old woman from Italy reported to the doctor with the complaint of sinusitis and excruciating facial pain. However, after a thorough evaluation, the diagnosis and the reason behind it was very shocking for the doctors.
Sinusitis: How did it happen?
History revealed that she underwent dental surgery 2 years before her presentation, which was of dental implant placement in her upper jaw. A dental implant is made of alloplastic materials that are implanted into the oral tissues beneath the periosteum or mucosa and through the bone. It gives support and retention to prosthetic teeth.
However, her examination revealed that the implant wasn't in its place. Therefore, the doctors did a CT scan to assess what had gone wrong. The CT scan showed that the implant was inside the woman's left ethmoid sinus. The sinuses are hollow cavities inside the skull, that help lubricate the nose and thus act as a barrier from infectious agents and foreign agents.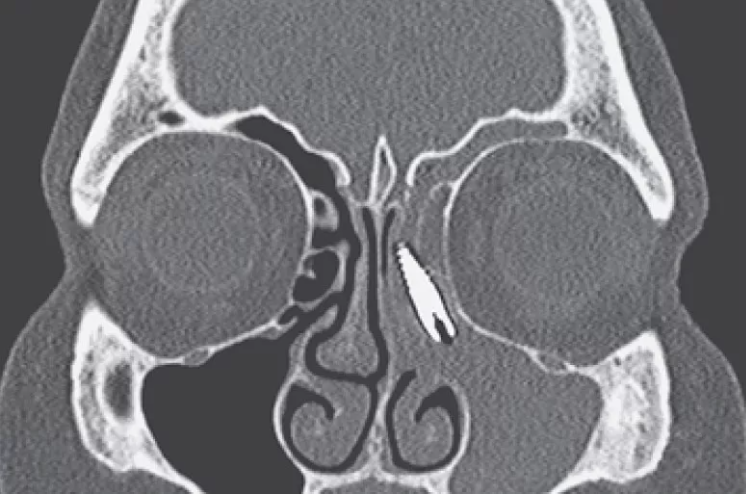 Treatment
The doctors performed surgery to remove the dental implant from the woman's sinus. It helped in alleviating the symptoms caused by sinusitis.
"There have been Previous cases of dental implants ending up in the sinus. In one case, an implant ended up in the base of the skull."

STUDY RESEARCHER ALBERTO SCHREIBER, UNIVERSITY OF BRESCIA IN ITALY.
How did the implant end up in the sinus?
According to the researchers involved in the woman's case, the implant may have impacted the sinus due to incorrect positioning by the surgeon or due to bone loss around the implant.
Moreover, the doctors suspected, that the implant may have been inside the sinus for the past year, or it may have even ended up in the sinus immediately after surgery.
"Dental implants can migrate if they do not properly integrate into the jawbone. The bone may have been too thin for the implant to properly integrate"

DR. ERIC COHEN, AN EAR NOSE AND THROAT SPECIALIST AT LENOX HILL HOSPITAL IN NEW YORK