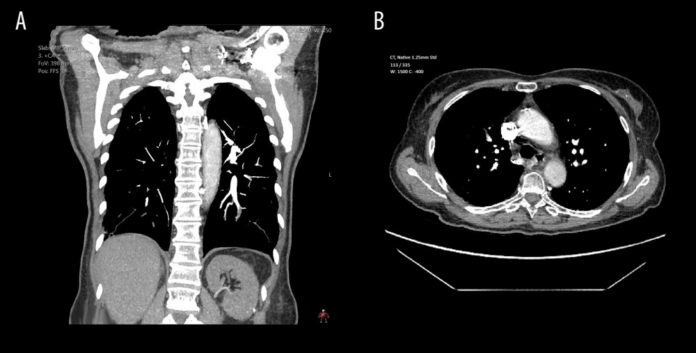 Chronic thromboembolic pulmonary hypertension mimicking pulmonary embolism
This article describes the case of a 68-year-old female patient who presented to the emergency with complaints of progressive dyspnoea and exertion with a history of 2 weeks. She was initially diagnosed with a pulmonary embolism. However, later findings led to the diagnosis of chronic thromboembolic pulmonary hypertension. On examination, the patient's vitals were within normal limits. His blood pressure was 126/87 mmHg, heart rate 80 bpm, respiratory rate 16 breaths per minute and SpO2 on 95% on breathing ambient room air.
Doctors advised an electrocardiogram which showed a sinus rhythm 79 beats/minute, right atrial enlargement, right ventricular hypertrophy and right axis deviation. Transthoracic echocardiography was significant for enlarged right atrium and ventricle with increased ventricular systolic pressure of 60-70 mmHg. Laboratory results showed elevated levels of thrombocyte and C-reactive protein levels. Other findings included high BNP and d-dimer levels. Based on these findings, doctors presumed that the patient may have a pulmonary embolism.
To confirm the diagnosis, doctors advised a thoracic computed tomography (CTA) with contrast
The findings showed an acute bilateral pulmonary embolism in the lobar, segmental and subsegmental branches. Other findings included a consolidation of the right upper lobe, a dilated right ventricle, right atrium and main pulmonary arteries. There were also signs of pulmonary hypertension and chronic bilateral thromboemboli with subpleural interstitial fibrosis because of recent pulmonary infarction.
Based on these findings, an acute pulmonary embolism was diagnosed and the patient was started on immediate anticoagulant therapy with Rivaroxaban, 15 mg, twice daily. The patient denied having any previous thrombotic events or chest pain, although, she did suffer from dyspnoea during physical activities. She underwent a splenectomy 21 years ago, and was diagnosed with a variant of CMPD, essential thrombocytopenia. Similarly, an ultrasound of the lower extremities showed chronic deep vein thrombosis in the v. gastrocnemius caput mediale dextra. The patient was discharged after 11 days of treatment.
However, during a subsequent follow-up after 3 months, doctors reconsidered the patient's risk factors. The diagnosis of chronic thromboembolic pulmonary hypertension was favoured over acute PE. Doctors further performed a right heart catheterisation. Further treatment included PEA and BPA.
Source: American Journal of Case Reports