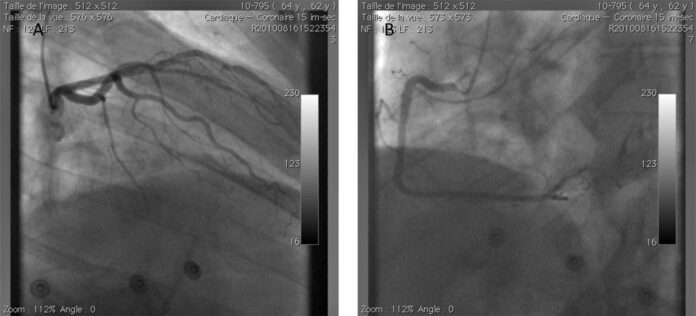 Case study
This article describes the case of a 62-year-old patient with a history of multiple myeloma and systemic hypertension diagnosed presenting with a rise cardiac troponin. The patient presented to the hospital with complaints of fatigue and chest discomfort. Physical examination did not show any significant findings. Blood pressure and heart rate were within normal range.
Investigations and diagnosis
For further evaluation, doctors advised an ECG which showed a normal sinus rhythm with a right bundle branch block. Blood tests showed a persistent increase in cardiac troponin, from 2.8 to 3 ng/ml (Beckman Coulter Access II and DXi 800 platforms, Beckman Coulter Inc, Fullerton, California, USA). Transthoracic Doppler echocardiography showed a normal left ventricular ejection, however, with a trace of aortic regurgitation. A coronary angiography was also done which showed significant luminal narrowing on epicaridal arteries.
Other findings showed that rheumatoid factor was undetectable. Alanine aminotransferase and aspartate transferase were within normal range. There were no signs of fibrin clots in the blood sample, whereas the blood was also not seen to be apparently viscous. The lipemic index was also low with no signs of haemolysis. The patient's symptoms were attributed to an increase in cardiac tropnonin.
An unexpected rise in cardiac troponin can be because of a number of different reasons in various clinical settings
For example, stress-induced cardiomyopathy, sepsis and pulmonary embolism. In this case, the unexpected rise in serum troponin alleviated after PEG precipitation. According to the study the elevation was associated with, "cTnI being sequestered as a high molecular mass (macro) enzyme complex with serum IgG rather than a result of increased cTnI released by damaged myocardial tissue".
Therefore, it is important for clinicians to pay attention to immunocomplexes that involve cardiac troponin and proteins as IgG, this may produce false-positive cTnI in patients with multiple myeloma.
Source: BMJ