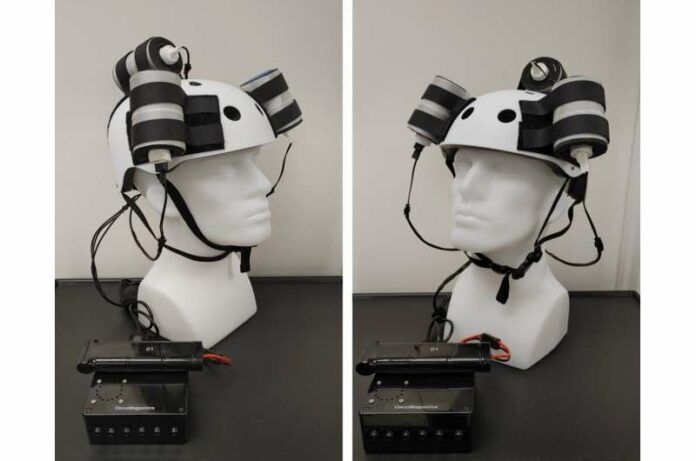 Glioblastoma is a tumor of the brain or spinal cord that occurs in cells called astrocytes. Its most common symptoms include headaches and seizures but can be fatal in adults. When possible, glioblastoma patients are treated with surgical resection, followed by radiation and chemotherapy. However, if the tumor's margins are unclear, full resection may not be possible and it may recur.

Combating this tumor has been an interest of scientists around the world, including a team of researchers from the Houston Methodist Neurological Institute. Rather than go with the conventional route, the team devised a non-invasive treatment consisting of an oscillating magnetic field (OMF) to shrink the tumor. The device was successfully tested on mice when the researchers received approval from the FDA for its first human subject under an "Expanded Access Program (EAP) for compassionate use treatment with the Onco-magnetic device" according to the manuscript published in Frontiers in Oncology.
A stubborn Glioblastoma

In 2020, the researchers used this OMF therapy on a 53-year old male patient with end-stage recurrent glioblastoma whose tumor had previously been surgically excised, followed by chemoradiotherapy. The patient had also undergone experimental gene therapy.

The device presented to him consisted of a helmet with three oncosillators, connected to a battery-powered controller. It applied intermittent bursts of an OMF created by magnets in the apparatus. The researchers began his treatment under their supervision at the Peak Clinic. After that, they allowed him to continue the therapy at home with the help of his wife. The team followed up with MRI scans at appropriate intervals.
According to the study, the patient tolerated the OMF treatment well. His family also reported an improvement in his speech and cognition.

Unfortunately, the patient could only receive treatment for 36 days as he passed away due to an unrelated head injury. However, upon autopsy, the team found favorable results from their device. They found that the tumor volume had reduced by 31%.

While the study has its limitations in the number of participants and its untimely end, the researchers believe that their treatment shows promise.

According to David S. Baskin, M.D., FACS, FAANS, corresponding author of the study and director of the Kenneth R. Peak Center for Brain and Pituitary Tumor Treatment in the Department of Neurosurgery at Houston Methodist:

"Thanks to the courage of this patient and his family, we were able to test and verify the potential effectiveness of the first noninvasive therapy for glioblastoma in the world."

"Imagine treating brain cancer without radiation therapy or chemotherapy. Our results in the laboratory and with this patient open a new world of non-invasive and nontoxic therapy for brain cancer, with many exciting possibilities for the future."
Source:
Frontiers in Oncology
https://www.frontiersin.org/articles/10.3389/fonc.2021.708017/full