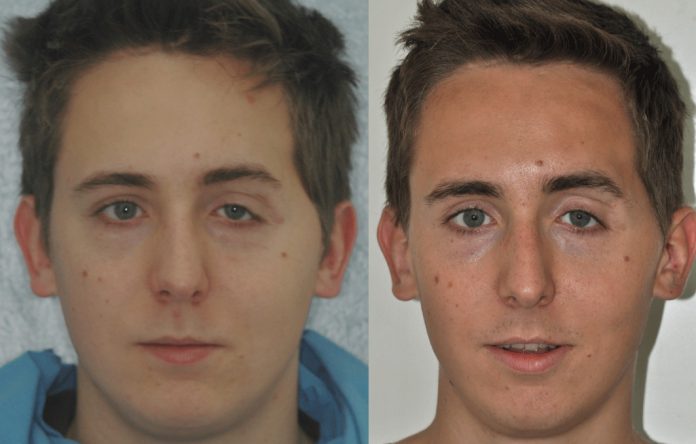 Facial reconstruction of severe facial asymmetry due to orbital floor blowout fractures
A 21-year-old male suffered skull and facial fractures and frontal anterior cranial vault injuries because of a high-energy motorcycle incident. He was hospitalised at a local trauma centre and immediate neurosurgical intervention was performed for reducing the high intracranial pressure level. Part of the left parietal and temporal bones was also removed temporarily, including the more comminuted bone fragments from the left orbital rim and roof.
A second surgical intervention was performed once the patient was stabilised to practice the cranioplasty. The previously removed cranial vault was reapplied and the supraorbital rim comminuted fracture was reconstructed with homologous cadaveric frozen bone, to reduce the frontal bone and zygomatic fracture. The orbital floor defect was sealed and the maxillo-zygomatic process was reduced on the left side. In addition, on the right side, orbital floor and medial orbital wall reconstruction and reduction of frontal bone and zygomatic fracture were also performed.
However, despite the treatment, left orbital deformity, severe mid-facial asymmetry and ocular dystopia remained because of the presence of a wide missing bone defect and lack of left orbital floor bone.
Orbital floor reconstruction
6 months later, a new surgical intervention was performed to solve the left diplopia and mid-facial asymmetry. The facial asymmetry was remarkably reduced and resolution of diplopia for distance vision was obtained. Low rpm drilling was used to hand-shape 1.5 cm length and 1, 2 cm deep iliac crest homologous graft bone following the shape of a silicon mould and fixed to the titanium mesh plate with titanium screws and was fixed to the orbital floor rim.
The facial asymmetry was remarkably reduced after surgery. Post-op CT scan confirmed good results and eighteen months after surgery, vertical diplopia was present on extreme downgaze only.
References
Orbital Floor Reconstruction in Facial Asymmetry: A Clinical Case https://clinmedjournals.org/articles/tcr/trauma-cases-and-reviews-tcr-1-016.php?jid=tcr