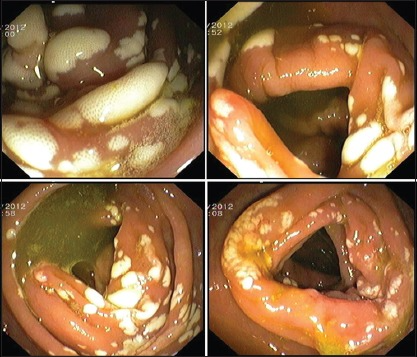 Rare Case of Pseudolipomatosis
Colonic pseudolipomatosis (CP) is described as a benign condition that often is a diagnostic challenge because of its rarity and multiple presentations. Similarly, if the endoscopist is not familiar with the diagnosis, it may be confused with other lesions. The lesion is also often referred to as an "endoscopic-specific" lesion because there are some very experienced endoscopists who see it frequently. However, there are some endoscopists who are unfamiliar with the lesion. This implies that a different technique plays an important role in the recognition of the lesion.
The aetiology and pathogenesis of CP have not been completely clarified. In many cases, CP is related to a mucosal iatrogenic injury that is caused during endoscopic examination. Moreover, it can also be caused due to a chemical injury by residual disinfectant on the surface of the scope after cleansing. Imaging tests, for example, CT or MRI do not contribute to the diagnosis of CP. Diagnosis is based on endoscopic lesions which also help with differentiating it from pre-malignant lesions such as lateral-spreading tumours. This further helps prevent further investigations and endoscopic mucosal resection.
This article describes the case of CP in an asymptomatic patient who was diagnosed with the condition while undergoing colorectal cancer screening. The article will further discuss the endoscopic and histological features, in addition to discussing the clinical significance.
Case report
This article describes the case of a 54-year-old male patient. The patient was asymptomatic and was undergoing a screening colonoscopy for colorectal cancer (CRC). The colonoscopy showed several white plaques, some confluent, interspersed with normal mucosa. "Biopsies were performed and the histopathological examination showed a fragment of polypoid colonic mucosa with optically empty vacuoles in the lamina propria and irregular cystic spaces of varying sizes, similar to adipocytes in the absence of inflammation or dysplasia".
Histopathological analysis showed an accumulation of gas in the colonic mucosa. The lamina propria showed clear air spaces of variable sizes that were aggregated, isolated and confluent. The centre was, however, empty and surrounded by an inflammatory infiltrate composed of mononuclear cells and eosinophils. The epithelial lining was slightly reactive and hyperplastic. It maintained the regular architecture without any signs of nuclear atypia. The air spaces were like fat cells. The findings confirmed the diagnosis of pseudolipomatosis.
Pseudolipomatosis
Pseudolipomatosis is a rare and benign condition that is prevalent in about 0.02% to 0.3% of endoscopic exams. The term was first coined by Snover et al in 1985. It is most commonly diagnosed in the 6th and 7th decades of life. However, there is no clear gender predilection. The patients are generally asymptomatic. Though in some cases symptoms of chronic diarrhoea, positive faecal occult blood test and lower gastrointestinal bleeding may be prevalent.
The pathogenesis of colonic pseudolipomatosis remains unclear. Endoscopic aspects are typical and it presents with whitish or yellowish, single or multiple mucosal plaques. The plaques often extend from several mm to 4 cm. Moreover, they can be found equally in the right and left colon. Histologically, the condition presents with empty vacuoles that measure 20 to 240 µm and may displace the adjacent lamina propria. Similarly, there is no epithelial lining in the clear spaces and based on histochemistry and ultrastructure, they have clear spaces and no epithelial lining.
Differential diagnosis of the condition includes cystic pneumatosis, colonic malakoplakia and colonic lymphangioma. Treatment includes conservative management. This is because the lesions regress spontaneously without any complications.
Source: NCBI