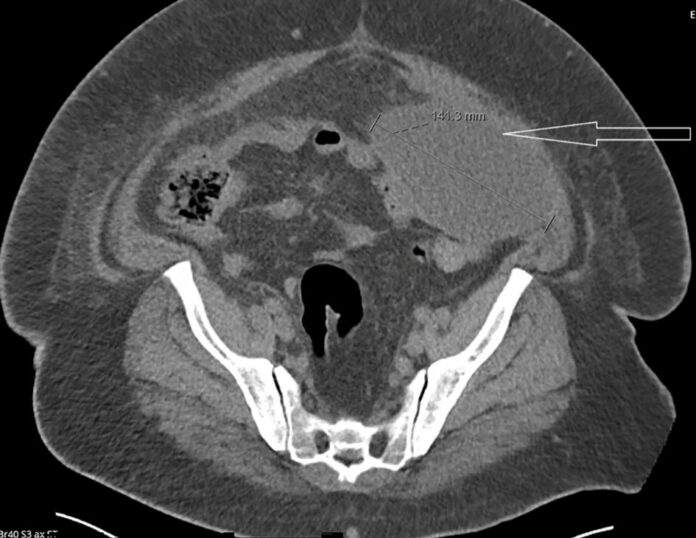 Lactobacilli, under certain risk factors, are responsible for serious infections, for example, heart disease, leukaemia, and immunosuppression in transplant patients. However, bacteremia in addition to intra-abdominal abscess due to Lactobacillus is rare, with only eleven reported cases.
This case is of a 44-year-old patient with a medical history of IV drug use and candida endocarditis status, nine years ago post bioprosthetic aortic valve replacement. He is in remission now and presented with generalized pain in his abdomen for six days, associated with vomiting and nausea. Furthermore, he admitted playing rough with his dogs, however, denied immunosuppression, drug use, and probiotic use since his aortic valve replacement.
Furthermore, he also complained of intermittent fevers. His primary care physician prescribed him ciprofloxacin and metronidazole due to the concern of diverticulitis. His physician also referred him for a CT abdomen and pelvis, which revealed multiple abnormalities. Hence his PCP asked him to report to the emergency department immediately.
Diagnosis
The CT scan showed a large collection of fluid in the spleen, deep pelvic region, and left pelvic region, with a concern for abscesses and hematoma. Upon physical examination, there was lower abdominal pain on palpation and open abdominal wall ulcers with multiple scratch marks. Moreover, his labs were significant for leukocytosis and thrombocytosis. Doctors hospitalized him for further management.
Surgery saw no requirement for surgical intervention and referred him to interventional radiology for placement of drains. He underwent drain placement to the lower left quadrant fluid collection with a purulent fluid return. The patient had drains placed in the left lower quadrant and trans gluteal region. Both grew Lactobacilli, identified through assisted laser desorption ionization-time of flight.  
Doctors started him on ampicillin/sulbactam concerning the source of the Lactobacilli infection, which was a zoonotic/exogenous source. It was from his dog's mouth versus the trauma-induced translocation of endogenous flora in a patient with diverticulosis.
Blood cultures on day five revealed a continued growth of Lactobacillus casei, with sensitivity to ampicillin/sulbactam. Doctors did a transesophageal echocardiogram on day seven and it was negative for vegetation.
Treatment and Follow-Up
Before his discharge, his blood cultures were negative and CT repeat revealed a decrease in size of the abscesses. On day ten, doctors discharged him with a plan for consultation of amoxicillin/clavulanic acid twice a day for six weeks. Moreover, he had to follow up with surgery later. However, the patient was hospitalized again a few days later with worsening fever, sepsis, and altered mental status. Repeat CT and other tests were negative. But the fluid culture grew Lactobacillus again. His medication was continued, and he was discharged on additional IV antibiotics.
Furthermore, he continued with ongoing drainage for the next several months and was taking oral amoxicillin/clavulanic acid twice daily. No adverse events were noted throughout the treatment.