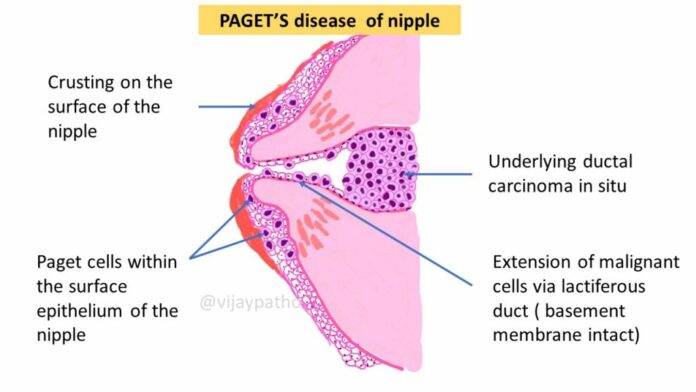 Case of Paget's disease of the breast with a 1-year history of an itchy skin lesion
A 44-year-old woman arrived at the dermatology clinic with intermittent nipple discharge and an itchy skin lesion on her right nipple that had been present for a year. Upon physical examination, the entire right nipple-areola complex was covered in a well-defined, dark-pink plaque. In addition to an excoriated and crusted surface, the lesion featured a raised, uneven border (Panel A). In the lesion's dermoscopy, there were superficial furrows and scaling (Panel B). Examination ruled out axillary lymphadenopathy and palpable breast tumour. Paget cells, or malignant intraepithelial adenocarcinoma cells, were discovered after a punch biopsy of the lesion (Panel C, arrows; hematoxylin and eosin staining). Based on these findings, the doctors diagnosed the patient with Paget's disease.
This is an uncommon presentation of breast cancer. It frequently coexists with invasive ductal carcinoma or ductal carcinoma in situ. The lesion frequently resembles benign conditions, such as eczema, making diagnosis difficult. Ductal cancer in situ was discovered in the areola of the right breast during magnetic resonance imaging. Nipple-areola resection, extensive local excision, and radiotherapy were all used in the course of treatment. At 1 year follow-up, there was no sign of a recurrence.

Paget's disease
15 female patients with chronic nipple sores were found by Sir James Paget in 1874; later on, all the patients developed breast cancer. These lesions were described as transparent yellowish exudate eczematous ulcerative or vesicular lesions. These epidermal lesions, which typically appear over the nipple and areola, were initially thought to be benign in origin, but it was later shown that they contained cancer cells. Later, this disorder was known as Paget disease of the breast (PDB) or mammary Paget disease (MPD). Similarly, extramammary Paget's disease, which affects both male and female external genitalia has a similar pathology. Both disorders share the same histological characteristics, however they have different pathogenetic mechanisms.
Aetiology
Studies have shown that breast cancer is typically linked to breast cancer, for example, invasive ductal carcinoma or ductal carcinoma in situ (DICS). The lactiferous ducts and ductules are thought to be the pathways through which these malignant ductal epithelial cells migrate towards the skin. Except for those that are shared by other breast cancers, there are no well defined specific risk factors.
Diagnosis
Doctors can correctly identify Paget disease of the breast via a nipple biopsy. Nipple biopsies come in a variety of forms, some of which are listed here.
Surface biopsy: A glass slide or another tool is used to gently scrape cells from the skin's surface during a surface biopsy.
Shave biopsy: The outermost layer of skin is removed using a tool like a razor.
Punch biopsy: A disk-shaped portion of tissue is removed using a circular cutting instrument known as a punch.
Wedge biopsy: a small wedge of tissue is cut off using a scalpel.
Sometimes, medical professionals might remove the entire nipple. The cells or tissue are then examined under a microscope by a pathologist to look for Paget cells.
The majority of individuals with Paget disease of the breast also have one or more tumours within the same breast. The doctor should conduct a clinical breast exam to look for lumps or other breast changes in addition to scheduling a nipple biopsy. A clinical breast exam can reveal a breast lump in as many as 50% of those with Paget disease of the breast. In order to screen for potential tumours, the doctor may request additional diagnostic procedures, such as a diagnostic mammography, an ultrasound examination, or a magnetic resonance imaging scan.
Treatment
For many years, axillary lymph node dissection—a surgical procedure that involves removing lymph nodes beneath the arm on the same side of the tumour. This was thought to be the standard treatment for Paget disease of the breast. This kind of surgery was performed since studies showed that individuals with Paget disease of the breast had one or more tumours inside the same breast.
Source: NEJM