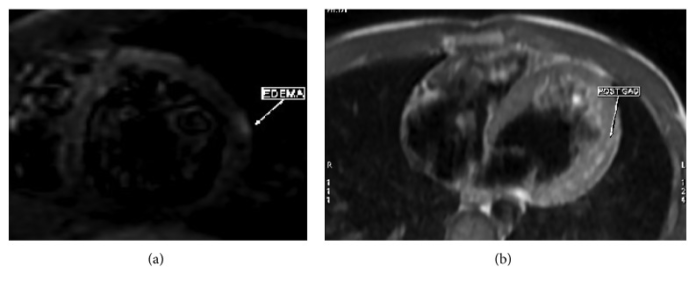 Case of myocarditis caused by Brucella melitensis
This article describes the case of myocarditis in a 21-year-old patient by Brucella melitensis in the absence of endocarditis. The patient was admitted to the hospital with complaints of fatigue, fever and retrosternal pain, initially. However, he did not have any complaints of generalised malaise, night sweats or anorexia. The patient's past medical history was insignificant. Secondly, he had no recent travel history outside of Greece, no risk factors of HIV infection and no exposure to animals. Thirdly, he did not smoke, drink or complain of any allergies either.
Examination and diagnosis
Physical examination showed that the patient's temperature was 39.0°C with a sinus rhythm of 90 bpm. The patient's blood pressure was 120/80 mm Hg. His respiratory rate was stable. In addition, there were no signs of cervical or supraclavicular lymphadenopathy. The lungs were clear on auscultation and percussion with no murmurs, rubs or gallops. Abdominal palpation did not show any distension with normal active bowel sounds. However, the midepigastrium was mildly tender without rebound or guarding. Liver and spleen were normal. There were no other abnormalities of oedema, cyanosis or clubbing. All other examinations were insignificant.
Electrocardiography was remarkable of a sinus rhythm with elevated ST. Furthermore, laboratory results showed a low platelet count, raised aspartate aminotransferase, alaninoaminotransferase and CPK levels with CPK-ΜΒ lower than 10% of total CPK. All other investigations including hemograpm, chest X-ray, blood and urine cultures were normal.
Although, the transthoracic echocardiography Doppler showed wall motion abnormalities in the absence of pericardial effusion. Cardiac MRI showed the presence of a delayed enhancement. It revealed recent myocardial damage with oedema and fibrosis in the middle and upper left and right lower wall. Similarly, on the third day of hospitalisation, Brucella melitensis was isolated from the blood cultures and diagnosed the patient with Brucella-related myocarditis.
Treatment included administration of Gentamycin for 10 days. The patient showed significant improvement after 5 days of treatment with no fever regression. He later recalled that he had consumed unpasteurized goat cheese a month ago, which in this case may have led to the myocarditis. Moreover, doctors prescribed Doxycycline and rifampicin for 6 months.
References
Myocarditis Caused by Brucella melitensis in the Absence of Endocarditis: Case Report and Review of the Literature https://www.ncbi.nlm.nih.gov/pmc/articles/PMC6387729/