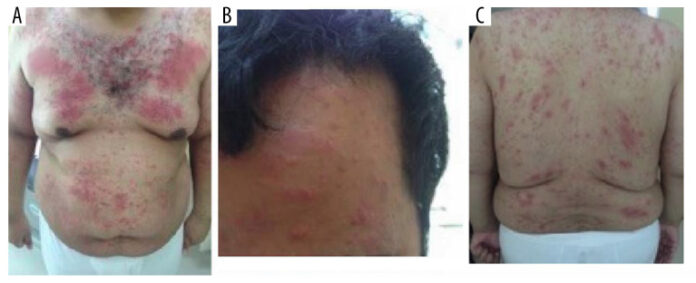 Four cases of peculiar skin rash after sleeve gastrectomy
Obesity is one of the main causes of death across the globe. Since obesity has increased incidences and weight reduction has become difficult, non-surgical methods are becoming difficult in reducing its morbidity and mortality. Therefore, people are using surgical methods, for example, bariatric surgery to reduce the drastic effects of obesity. Currently, bariatric surgery is on the rise. Sleeve gastrectomy is one of the most common types of bariatric surgery. However, just like any other surgery, it has multiple risks.
This case report is of four such cases of patients that showed peculiar skin rashes. The rashes appeared two to four weeks following the sleeve gastrectomy. Further mechanisms may also underlie the co-relation.
Case 1
The first case of a 25-year-old male with a history of extensive maculopapular erythematous skin rash. The rashes started three weeks after the sleeve gastrectomy. The patient had no vitamin and zinc deficiencies before the procedure. The rash presented all over the body, from the chest that spread to the face, buttocks, trunk, and upper limbs. The distinctive morphologies of the rash were the lesion on the face clinically typical of folliculitis. Furthermore, the other lesions revealed spongiotic dermatitis.
Case 2
The second case is of a 29-year-old male with a history of maculopapular erythematous lesions on the face, neck, and upper chest. The eruption was spontaneous, three weeks after sleeve gastrectomy. Doctors performed the surgical procedure three weeks before the consultation. Moreover, the patients' medical records were in normal ranges, without any co-morbidities.
Case 3
The third case is of a 39-year-old woman who presented with a spontaneous eruptive rash on her upper chest and sides of the neck. The rashes were seen just two weeks after sleeve gastrectomy. The pattern of the rash was erythematous follicular, which indicated folliculitis. Her vitamin and trace elements levels before the surgery were normal. Furthermore, she was given vitamin B12 supplements before the surgery.
Case 4
The fourth case is of a 32-year-old man who presented with an eruptive rash on his trunk, chest, and face. The rash developed four weeks after sleeve gastrectomy. Moreover, the lesions in this patient were also follicular. There were no co-morbidities, allergies before the surgery either.
Conclusion
Since bariatric surgery is increasing, rare complications of the procedure are very apparent. Although further studies are needed to determine the prevalence, the presentation of the four cases describes the possible complication of developing peculiar rash weeks after the surgery.