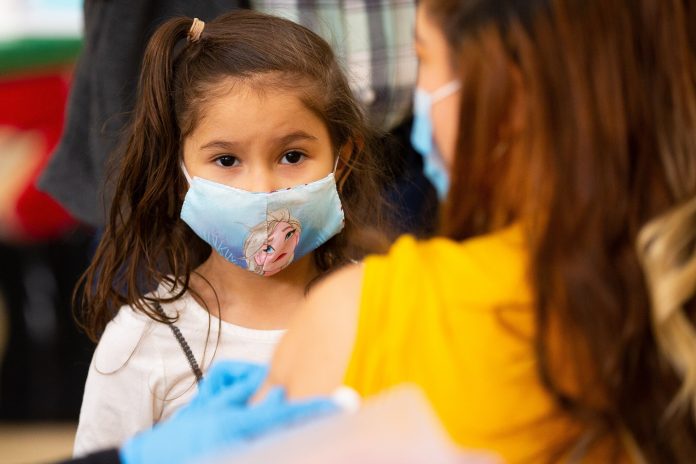 According to a statement released Tuesday, Moderna has begun testing its COVID-19 vaccine in children as young as 6 months.
In December 2020, the US Food and Drug Administration (FDA) approved Moderna Vaccine for use in individuals aged 18 years and above. Since then, the country has administered over 50 million doses of the vaccine. However, as the Biden administration prepares to reopen schools, researchers are now focusing their attention on vaccinating younger age groups. Although children are at a lower risk of infection, researchers believe administering vaccines to children can help achieve herd immunity faster. As a result, both Pfizer and Moderna began vaccine trials in children older than 12 years, in December of last year. Now, in a recent statement, Moderna announced it has begun injecting its vaccine in children aged 6 months to less than 12 years.
Called the KidCOVE study, the trial aims to enroll over 6,000 volunteers, aged less than 12 years, from across the US and Canada. This two-part study will assess the safety and effectiveness of the COVID-19 vaccine in those as young as 5 months. Each child will receive two doses of the mRNA vaccine, 28 days apart.
The KidCOVE study
In the first part of the trial, researchers will test different doses to assess which works best. Children under 2 years will receive two doses of either 25, 50 or 100 micrograms. While those aged 2 to 12 years will receive two doses of 50 or 100 micrograms each. Once scientists have decided on the best dosage, they'll begin part 2 of the trial. For the second part, children will be randomly assigned to receive either the placebo or the vaccine. Researchers will follow the participants for a year after the second dose to assess the vaccine's overall efficacy.
However, as children are less likely to contract COVID-19, experts worry the number of cases won't be enough to calculate vaccine efficacy. Therefore, along with looking for infection, researchers aim to measure antibody levels in children. Furthermore, in that year-long follow-up researchers will also track for any vaccine side effects.
Scientists expect the trial will end by early 2022. Last month, Johnson & Johnson also began testing its vaccine in children aged 6 years and older. Although doctors are critical of pediatric testing, the current trials will reduce the risk of fatal inflammatory conditions in children.
Reference:
"Moderna Announces First Participants Dosed in Phase 2/3 Study of COVID-19 Vaccine Candidate in Pediatric Population." Moderna, Inc., 16 Mar. 2021.