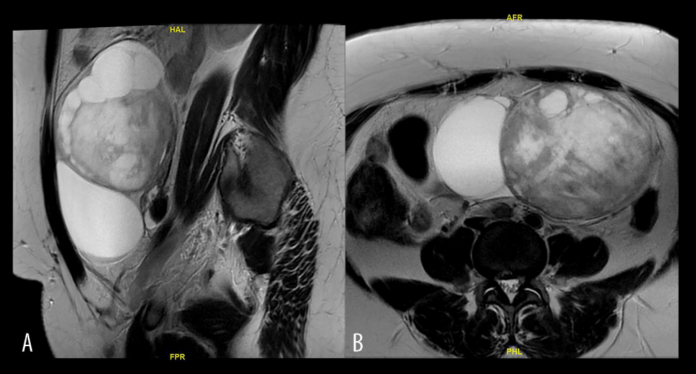 Microcystic tumour of the ovary
This article describes the case of a 46-year-old diagnosed with a microcystic tumour of the ovary. The patient presented with a 3-day history of intermittent vaginal bleeding and moderate abdominal pain. Her medical history revealed that she had primary infertility and polycystic ovaries. For 3 years, she received treatment with various fertility regimens and undergone several ultrasound imaging. Her medical history further revealed that she underwent a myomectomy for a uterine fibroid 6 years before her current presentation.
The patient had no family history of malignant tumours. Similarly, her body mass index was 36.85 kg/m2. Physical examination showed a slightly tender abdomen with no palpable inguinal lymph nodes. On admission the patient's vitals were, however, stable. Doctors advised laboratory tests including complete blood count, tumour markers, renal and liver function tests, urea and electrolyte panel, which were all within normal limits.
For further evaluation, doctors advised a pelvic ultrasound which showed a large complex left adnexal mass with cystic and solid components
The mass measured 15.3×12.3×10.6 cm. The ultrasound also showed two small intramural fibroids. An MRI of the pelvis was also done which shoed a complex multiloculated cystic mass, measuring 17.15.9 cm. The findings were consistent with the diagnosis of a microcystic tumour of the ovary. Treatment included surgery with an intraoperative consultation. Cytological examination did not show signs of malignancy. The findings confirmed the diagnosis of a microcystic tumour.
Microcystic adnexal carcinoma is a rare tumour of the appendages. It is classified as a low-grade sweat gland carcinoma that commonly occurs in the head and neck region, particularly the face. It shows aggressive local invasion with rare lymph node metastases.
The patient was discharged on the 3rd day after surgery. She was disease-free for 24 months after her initial diagnosis and was following up with her gynaecologist for primary infertility.
Source: American Journal of Case Reports