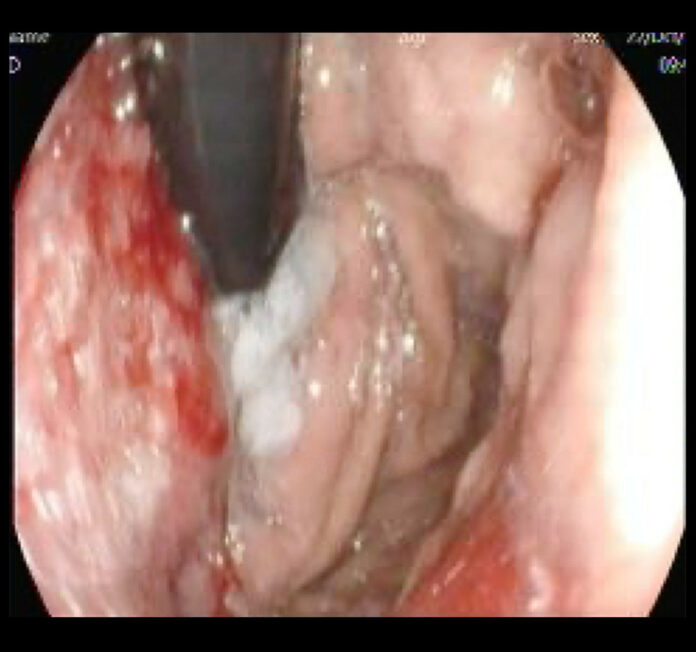 Metastatic gastric adenocarcinoma
If two or more histologically different malignancies are diagnosed in the same patient, it is referred to as multiple primary neoplasms. However, the malignancies are not a result of an extension, relapse or metastasis of first cancer. According to current literature, the prevalence of multiple primary cancers is 0.7% and 12%. The second neoplasm is classified as synchronous if diagnosed within 6 months. Moreover, is classified as metachronous secondary cancer if diagnosed after 6 months. Though with the increased survival of patients with the help of improved cancer detection techniques and survival, the incidence of multiple primary cancers has decreased. This article describes the case of metastatic gastric adenocarcinoma in a patient, 4 years after laparoscopic resection of rectal adenocarcinoma.
Studies have shown that survivors of colorectal cancer are at a higher risk of developing a second neoplasm
Studies have shown that survivors of colorectal cancer, compared to the general population are at a higher risk of developing a second neoplasm. The incidence of a second neoplasm in patients with colorectal cancer is 20%. Colorectal adenocarcinoma is the most common second neoplasm in survivors of colorectal cancer, followed by prostate and breast cancers. Identifying metastasis of the first primary cancer is the main challenge in a cancer survivor patient with a new lesion. In this scenario, immunohistochemistry (IHC) is crucial and beneficial.
Gastric cancer patients are more likely to have positive IHC results for Cytokeratin 7 (CK7) and CDx2. While colorectal cancer patients are more likely to have negative tests. Further, cytokeratin 20 (CK20) IHC testing is commonly used in colorectal cancer. Based on the present report, the initial diagnosis was rectal origin metastasis, as this is the most common metachronous SPC. Our diagnosis is invasive gastric adenocarcinoma with port-site metastases. Based on the evidence of endoscopic and radiological gastric masses and IHC testing of port-site and gastric lesions.
There were few reports of synchronous gastric and colorectal cancer managed with simultaneous surgical interventions. However, when a cancer survivor exhibits a new lesion, the main challenge is separating metastasis from SPC.
Case report
In this case a 66-year-old male smoker with a history of diabetes mellitus, chronic kidney disease, hypertension, atrial fibrillation, ischemic heart disease and heart failure with an ejection fraction of 33% presented with a history of rectal cancer. The patient's cancer was managed surgically with laparoscopic low anterior resection. The patient's follow-up was unremarkable for 4 years. The patient was advised regular follow-ups with history, physical examination and carcinoembryonic antigen (CEA).
The patient also underwent a CT of the chest, abdomen and pelvis every year in addition to a colonoscopy 1 and 3 years after resection. However, he then presented to the clinic with a soft and painless swelling in the right lower abdomen, at the previous laparoscopic low anterior resection port site. Moreover, he also complained of a loss of appetite. Though has no complaint of night sweats, nausea, vomiting, weight loss or upper GI bleeding. There were no signs of abdominal pain, rectal bleeding, melena or constipation.
Physical examination was further significant for a non-tender mass measuring 5×4 cm at the soft port site
The patient was further referred for sigmoidoscopy which showed an intact stapler line with no signs of mucosal changes. Chest CT did not show any metastasis, whereas a tru-cut biopsy of the abdominal wall mass was sent for histopathological analysis in addition to an upper endoscopy. Histopathological analysis confirmed the diagnosis of adenocarcinoma.
The case was further "discussed by the Tumor Board and the decision was made to perform a positron emission tomography (PET) scan. The PET scan showed a fluorodeoxyglucose (FDG)-avid gastric mass and isolated right rectus abdominis muscle mass with no other suspicious area, which confirmed gastric cancer with port-site metastasis. The case was discussed again by the Tumor Board and the decision was made to treat the patient palliatively with the best supportive care".
The patient died 4 months after the presentation.
Source: American Journal of Case Reports