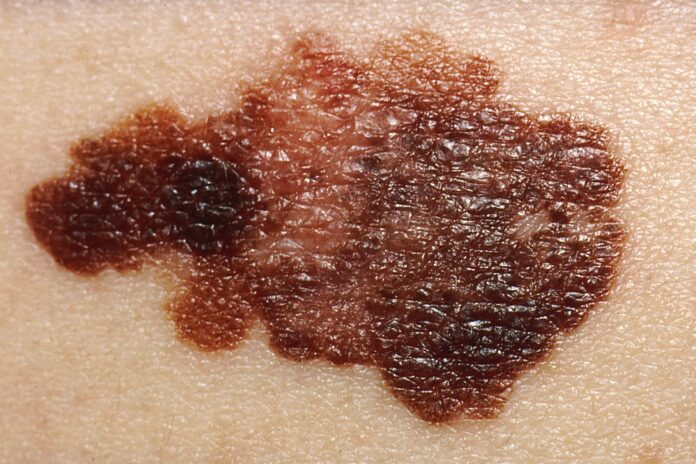 Researchers have validated a diagnostic test for melanoma that assesses the risk of cancer spreading to other parts of the body.
In April of last year, researchers at Mayo Clinic developed a new diagnostic test, the Merlin assay, for melanoma. The test was designed with the aim to avoid sentinel lymph node biopsies in patients. Moreover, the test could identify the risk of cancer spreading to other parts of the body. However, unlike the biopsy it was non-invasive. Now, a recently published study has validated the diagnostic test
Melanoma is a dangerous form of skin cancer that arises from melanin-producing cells called melanocytes. DNA damage due to ultraviolet (UV) light exposure and genetics are one of the commonest causes of the condition. Although melanomas only account for 2% of all skin cancers, it causes a great number of deaths. Moreover, the number of cases has significantly increased over the years.
Currently, a sentinel lymph node biopsy (SLNB) is used for staging cancer. The sentinel lymph node is the initial node to which the tumour drains. Its biopsy allows doctors to predict the spread of cancer within a person's body. However, 85% of patients who undergo the invasive procedure do not have nodal spread. Thus, putting the patient through the risk of unnecessary complications such as bleeding, infection, lymphedema, and pain. Moreover, the positive rate for the biopsy is lower in the elderly; although, they have a higher disease incidence.
The Merlin Assay
Mayo researchers developed the non-invasive test for melanoma patients in collaboration with the biotech company SkylineDx.
The Merlin assay considers patient's age at the time of diagnosis, tumor characteristics, and tumor's gene expression to identify the risk of nodal metastasis. To validate the diagnostic test, researchers recruited 208 adult patients with primary melanoma. Based on their risk of nodal metastasis, the test then divided them into high risk or low risk.
The findings of the study confirm the test's effectiveness, especially in patients aged 65 years and older.
Reference:
Yousaf, Ahmed et al. "Validation of CP-GEP (Merlin Assay) for predicting sentinel lymph node metastasis in primary cutaneous melanoma patients: A U.S. cohort study." International journal of dermatology vol. 60,7 (2021): 851-856. doi:10.1111/ijd.15594