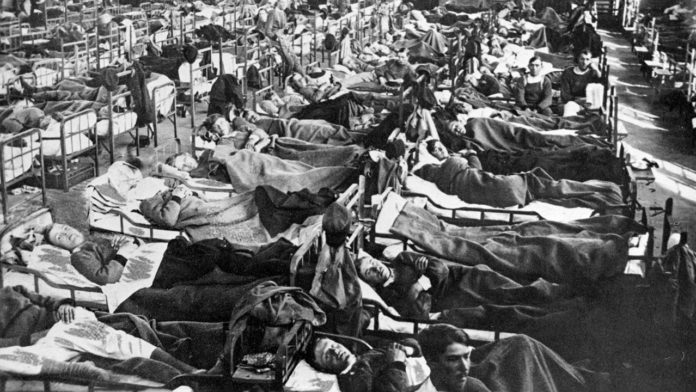 Preserved human tissue shows variants of Influenza A of the H1N1 subtype.
The Spanish Flu, also known as the Influenza pandemic is the deadliest of pandemics to have plagued an estimate of 500 million people worldwide. The 1918 pandemic killed an estimate of 20 million to 50 million people in Europe, the United States and parts of Asia. There were no effective drugs or vaccines at the time to curb the virus. Therefore, citizens were ordered wear masks, whereas, businesses, schools and recreational facilities were shut. Very similar to what the situation is like today during the covid-19 pandemic.
Fragments of the virus preserved in lung tissue for centuries are currently being studied have revealed a number of new insights about the virus. Including the fact that the virus mutated to a more catastrophic version of itself during the second wave. Genetic analysis showed that there were key genetic changes in the virus.
The study, not yet peer reviewed, is being performed on the lung tissue of three people who died during the 1918 Spanish Flu pandemic in Europe.
The researchers were able to sequence a large part of the virus from two young German soldiers, who died from the new influenza strain. Their lungs were preserved in a museum with formalin for a 100 years. They further sequenced an entire genome of the virus from a young woman who died in Munich. All three samples tested positive for influenza A virus of the H1N1 subtype. The same virus was also responsible for the deadly swine flu outbreak of 2009 and 2010. Influenza A virus attacks the respiratory system and is highly contagious. The virus is transmitted into the air via respiratory droplets and can be inhaled by anyone nearby.
The study showed that the virus from the second wave featured mutations which could have been helpful for evading the immune system. Therefore, making the mutated varian more dangerous. Further explaining why the second wave killed more people than the first.
References
Human tissue preserved since World War I yields new clues about 1918 pandemic https://www.sciencemag.org/news/2021/05/human-tissue-preserved-world-war-i-yields-new-clues-about-1918-pandemic