Complications after a transurethral laser incision in a 6-week-old baby boy with simple ureterocele.
A 6-week-old male presented with general bad health and clinical manifestation of sepsis 2 days after laser incision of a simple right ureterocele using a holmium laser. The baby underwent endoscopic incision in the outpatient department. Thereafter, the boy was discharged home immediately after cystoscopy.
The baby underwent an ultrasound which showed mild distention of the right renal collecting system and upper part of the right ureter. Moreover, US also showed a fluid collection around the bladder.
Voiding Cystourethrography (VCUG) suggested contrast leak localized paravesically.
Computed Tomographic Urography (CTU) revealed a dilated right collecting system. It also showed partially visible right ureter and contrast leak from its distal end above the bladder.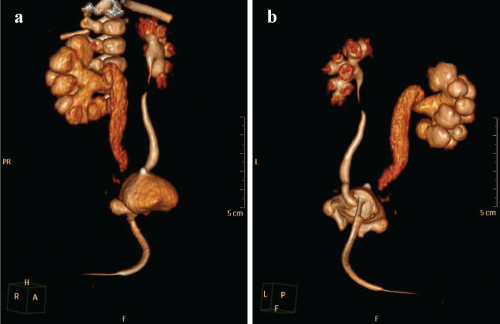 Cystoscopy showed necrosis of the right bladder wall.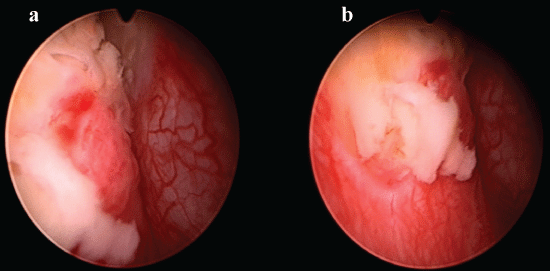 The doctors decided to perform a laparotomy. Intraoperatively, they discovered a completely destroyed right bladder wall with a perforation (locally coagulated and buried tissues). Moreover, they also found damage of the distal 3-4 cm of the right ureter. Above the bladder, approximately 4 to 5 cm above, the ureter was healthy. Additionally, the anterior wall of the rectum was also involved, however, there was no perforation in the rectal wall. but without perforation.
 After removal of damaged tissues, the surgeons closed the bladder in layers. Finally, they performed right end ureterocutaneostomy.
Postoperative course:
Postoperatively, the patient had no immediate complications. Control Computed Tomographic Urography (CTU) revealed no leak in the urinary tract.
However, radionuclide examination showed right renal parenchyma scarring with slightly diminished function (45% ERPF).
During the first 2 months after the surgery, the patient developed recurrent Urinary Tract Infections (UTI). Moreover, the cutaneous orifice of end ureterocutaneostomy showed progressive stenosis. Therefore, the stenosis required reoperation with excision of distal scarred part of the ureter followed by more proximal localization of stomy.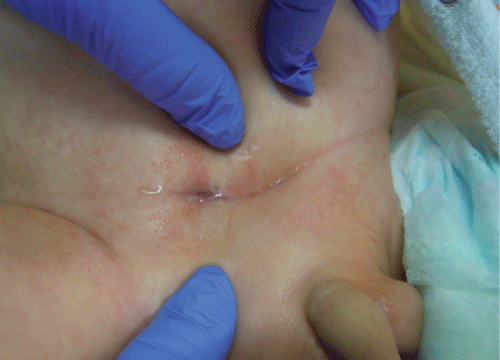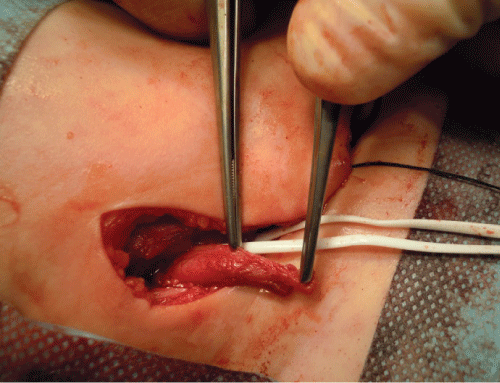 Following the second surgery, there were no complication. In the following 4 years, ureterostomy functioned perfectly, there were no dilatation of the right collecting system and the patient didn't develop any UTIs.
During recent years, for simple ureterocele in neonates and young children, holmium: YAG laser has become the first line of treatment. It is proven to be safe and efficacious without any intraoperative complications. This case describes a first-time reported complication of laser therapy. Therefore, it also highlights the importance of being aware of the complications so that one is careful while opting and using the new techniques for endoscopic treatment.
References:
Warchol S, Dudek T (2017) Serious Complication after Laser Treatment of Ureterocele in an Infant. Int Arch Urol Complic 3:028. doi.org/10.23937/2469-5742/1510028