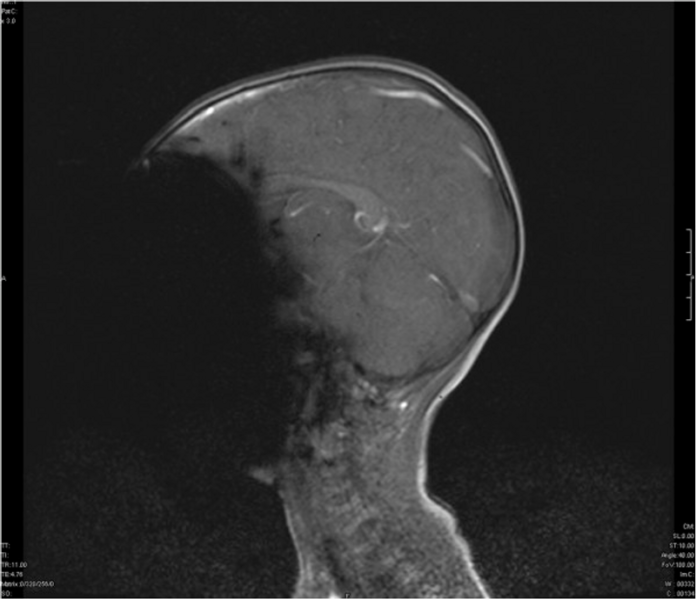 Case of an unexpected ferromagnetic foreign body detected on child's MRI
This article describes an unusual presentation on an MRI. The case is of a 3-year-old boy, who presented with an upper respiratory tract infection. However, when the doctors sent him for an MRI, the most unusual thing happened, most of his face disappeared from the scan. Doctors immediately put the procedure at halt when they realised what was going on.
The 3-year-old Caucasian male was admitted to the paediatric department with a 10-day history of an upper respiratory tract infection. In addition, he had a 5-day history of a productive cough with fever. On the day of admission, his parents noted a diffuse swelling and redness of the forehead and right orbital region. The patient was suspected to have acute sinusitis and was admitted to the hospital. Physical examination was unremarkable. The nose and ears could not be inspected in detail because of the child's defensive behaviour and massive agitation. Laboratory results were remarkable of bacterial infection. Therefore, intravenous antibiotics were administered.
Examination and diagnosis
Otolaryngology advised an MRI scan of the head to plan a possible surgical intervention. Moreover, since the child resisted all attempts at examining him at close quarters, doctors decided to perform the MRI under general anaesthesia. Oddly enough, the first image revealed a disappearance of the face, indicating a ferromagnetic object in the scanned region.
The child was immediately removed from the MRI scanner with suspicion of a ferromagnetic object in either the mouth or nose. A detailed examination of the nasal cavity revealed a small foreign body in the nasal cavity. The foreign object, later identified as a small button battery, was easily removed by colleagues at the ear nose (ENT) and throat department.
Interestingly, even after removal of the battery and thorough lavage, repeat MRI showed that there was still some ionic material left behind. However, the structures seen were considered as corresponding to ionic material in the mucosa. A computed tomogram scan of the head was performed to exclude any other foreign body.
The child's recovery was uneventful and the symptoms quickly resolved with antibiotics.
References
An unexpected ferromagnetic foreign body detected during emergency magnetic resonance imaging: a case report https://www.ncbi.nlm.nih.gov/pmc/articles/PMC4252995/