Foreign body ingestion is a common cause of death. However, 90% of foreign bodies pass without perforation or obstruction of the gastrointestinal tract.
Intestinal perforation by a foreign body is uncommon and occurs in less than 1% of patients.
The most common site of intra-abdominal perforation is the terminal ileum (39%). [1]
A 23-year-old female patient presented to the emergency department of a hospital in New Delhi, India with complaint of ingesting a teaspoon a day ago while she was eating ice cream. She also complained of pain in the abdomen and nausea.
On physical examination, the abdomen appeared tender around the umbilicus, however, there were no signs of peritonitis present. For further evaluation a plain x-ray was performed which showed a radio-opaque foreign body in the stomach. The patient was closely monitored and observed after being admitted and conservative treatment was started. The patient did not show any improvement and abdominal pain continued even after a day. X-ray was repeated in an erect and supine position to locate the position of the teaspoon.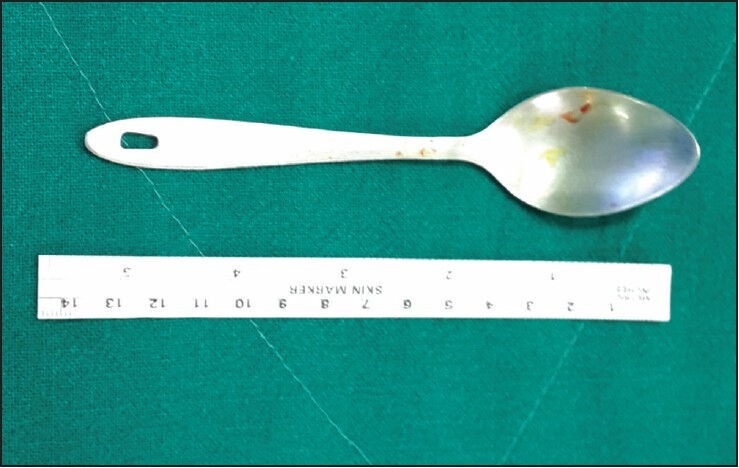 Laparoscopic retrieval of spoon from stomach
A diagnostic laparoscopic procedure was performed with one 10 mm and two 5 mm midline ports. The bowels appeared to be normal on initial evaluation with absence of bowel adhesions. However, the upper GI tract jejunum was found to be dilated on examination and exploration. The spoon was located at the level of mid jejunal level. An enterotomy (surgically cutting open the intestine) was performed on the antimesenteric border to retrieve the tablespoon and was closed with an endo GI stapler.
References
Goh, B. K., Chow, P. K., Quah, H. M., Ong, H. S., Eu, K. W., Ooi, L. L., & Wong, W. K. (2006). Perforation of the gastrointestinal tract secondary to ingestion of foreign bodies. World journal of surgery, 30(3), 372-377.
Shukla, B. K., Khullar, R., Sharma, A., Soni, V., Baijal, M., & Chowbey, P. (2014). Laparoscopic retrieval of an unusual foreign body. Journal of minimal access surgery, 10(4), 210.