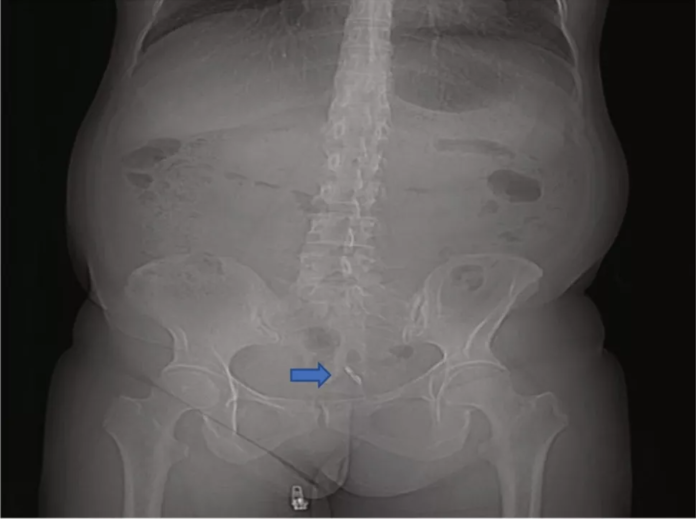 Woman's contraceptive device eroded through her uterus and perforated the bladder.
This article describes the case of IUD perforation in a 46-year-old woman whose IUD eroded through her uterus and perforated the bladder. She visited the doctor with a complain of blood in her urine. Examination showed that the intrauterine device had eroded through the uterus and perforated the patient's bladder. She received her copper intrauterine device (IUD) around 10 years ago.
According to Dr. Nicholas Faure Walker, the urological surgeon at King's College Hospital, London, leading the treatment:
IUD birth control
Intrauterine birth control is of two two types, hormone-releasing IUD and copper IUDs. The copper IUD is made out of a copper wire which releases ions that impairs sperm swimming, making the uterus inhospitable for them. This is an effective form of birth control that lasts for up to 12 years. In addition, it is a safer, long-term birth control option because the risk of an IUD perforating the uterus is extremely rare. Although, as reported in previous literature, "Only a small minority of these perforations involve the bladder," said Dr. Walker.
This woman's medical history revealed that she had an abortion 10-years ago, after which she had the IUD placed. Moreover, prior to that had two healthy c-section births.
She presented with a 2-month history of blood in her urine, pain during urination, pain in her lower abdomen and pain during sexual intercourse. Therefore, for further evaluation, doctors advised an ultrasound and CT scan which showed that the IUD had perforated the patient's bladder, resulting in a bladder stone. The stone measured around 0.43 inches and was visible on the device's right arm.
Migration of the IUD
IUD perforation can be because of one of two reason. It either punctures the uterine wall during insertion, causing gradual erosion of the uterine tissue, as explained by Dr. Walker.
Or, according to Elizabeth Kavaler, a uro-gynecologist at Lenox Hill Hospital, in New York City, pressure or inflammation can cause the tissue around the IUD to breakdown.
Doctors used a laser to pulverize the bladder stone and pulled out the IUD through her vagina. Her symptoms resolved completely after a month.
References
Erosion of an intrauterine contraceptive device into the urinary bladder: A case report https://www.sciencedirect.com/science/article/pii/S2214911220301041