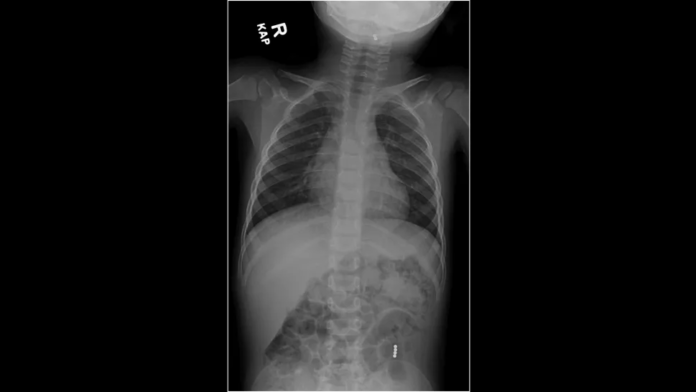 Small rare earth-magnets adhered to the throat and abdomen in paediatric emergency.
This article highlights the case of a 3-year-old who swallowed six tiny magnet beads, out of which two got stuck in his throat and four in his abdomen.
Magnets are a known health risk to children and ingesting or aspirating them can cause severe complications. Although unusual, it is quite common for children to ingest foreign objects. As in this case, a 3-year-old swallowed magnet beads that were a part of his toy while his sister was babysitting. The magnets measured around 3 mm each. His parents immediately took him to the emergency room when they found out.
Doctors performed an x-ray which showed 2 magnet beads in his throat and 4 in his abdomen. There were no foreign bodies evident in the oropharynx. Neither did he have any problems breathing. However, complained of mild pain on swallowing.
The magnet beads are typically made from rare-earth elements that are harmful for young children, if swallowed.
The magnets can stick to each other and pose as a significant risk. Such as in this case, as seen on a flexible telescope (scope), the magnets were adhering to the pharyngeal tissue. The beads magnetised to each other on opposite sides of a fold of mucous membrane. According to Dr. Emily Powers, lead author of the report, the beads could have caused choking pneumonia.
Doctors removed the magnets in the operating room using metal forceps. Although the magnets got stuck to the forceps while removing, it caused no injuries and were successfully removed. He still had magnets in his abdomen for which he was kept under observation overnight. He didn't have any abdominal and was able to eat normally. Doctors discharged him the next day. Three days later, as told by the parents, the boy passed the magnets in his stool.
References
Small Rare Earth Magnets Adhered to Pharyngeal Tissue in a Pediatric Emergency Department Patient https://www.jem-journal.com/article/S0736-4679(20)31328-7/fulltext