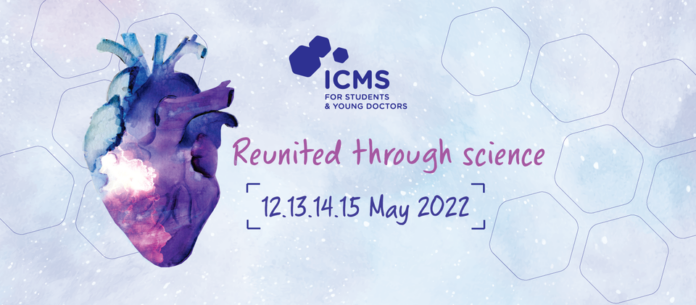 The International Congress of Medical Sciences (ICMS) is an annual event organized by the Association of Medical Students in Bulgaria – Sofia (AMSB – Sofia). The congress aims to create an opportunity for medical students and young doctors to present their scientific work, exchange knowledge and broaden their horizons. Furthermore, the main components of the schedule are keynote speakers' lectures, workshops and scientific sessions.
ICMS 2022, the 20th anniversary edition, is going to take place from the 12th to the 15th of May – for the first time in hybrid mode. The congress is going to take place at the Medical University of Sofia, Sofia, Bulgaria. Moreover, all sessions are going to be held in English, to be understandable for everyone.
How to Register?
The registration for the event is very easy. All willing participants can register at the official website. The process takes no more than 5 minutes!
ICMS 2022 has a wide range of international and national ambassadors. Without active ambassadors, it is next to impossible to reach medical students from all over the world.
All in-person participants will receive a welcome package. The online participants will also get their fair share of virtual goodies.
Review of ICMS 2021
In the previous edition of the International Congress of Medical Sciences, the focus was mostly on providing sessions and competitions in a completely remote and online environment. The Congress allowed its participants to present their research from the comfort of their own homes. In addition, the academically-rich workshops provided brought something extra to an exhausting and uninteresting academic outline. Above all, Nobel Prize winner Professor Harvey Alter engaged the audience with an absolutely riveting talk. He described in detail his journey to discovering so much about the Hepatitis C virus. His enthusiastic participation motivated the young and full-of-potential scientists.