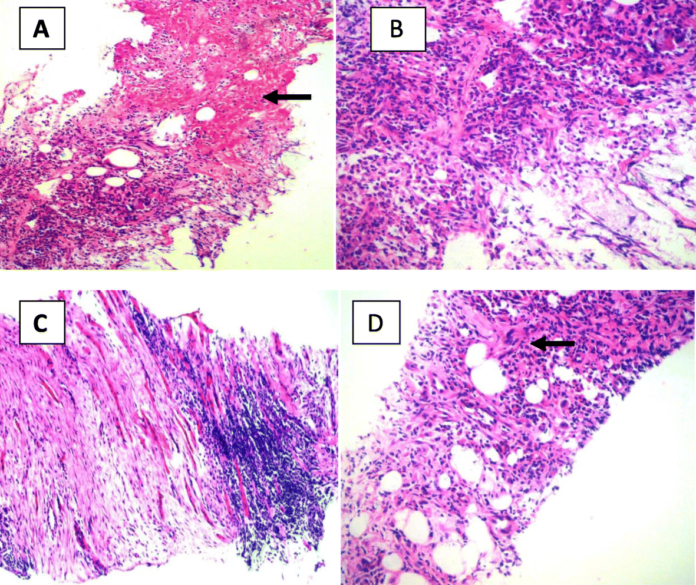 Infective Myositis in 60-year-old triggered by melioidosis
This article describes the case of a 60-year-old Sinhalese man with infective myositis caused because of melioidosis. The patient presented to a teaching hospital with complaints of fever with a history of 4 months, and pain in the lateral aspect of the right upper thigh with a history of 3 months. He was admitted to the local hospital, 3 weeks prior to his presentation. Examination showed a painful lump at the lateral aspect of his thigh.
The patient's medical history revealed that he had earlier been treated for multilobar pneumonia with intravenous meropenem and teicoplanin for 14 days at a local health facility. During the course of his illness, he also required management at the intensive care unit. The pain and size of the lump decreased after treatment, the lump and pain persisted after he was discharged from the local hospital.
In addition, although the patient was febrile upon discharge from the local hospital, he experienced fever on-and-off, again. With time he also suffered with difficulty walking and an increase in the severity of pain in the right upper thigh. For this reason, the patient sought medical advice. On admission to the hospital, the patient showed high-grade fever with no other symptoms, including, respiratory or urinary symptoms. His bowel motions also had normal colour and contour.
Since the patient was a farmer by profession, he had a history of being exposed to surface water
He never smoked, nor did he ever use alcohol. Similarly, he was diagnosed with type 2 diabetes mellitus 8 years ago and was prescribed oral hypoglycaemic drugs. He wasn't on any other medications or steroids. Nor did the patient exhibit any high-risk behaviours. All laboratory tests were within normal range. The patient was started on intravenous flucoxacillin and meopenem. And the blood cultures were taken for testing for melioidosis antibodies.
Doctors advised an ultrasound of the right lateral thigh which showed a lesion extending to the right femur. However, the X-ray of the femur showed no abnormal findings. According to the study, the CT scan of the patient showed "an ill-defined, heterogeneously enhancing, hypodense area in the vastus lateralis, vastus intermedius, and quadratus femoris" of the right thigh. The doctors further performed an ultrasound-guided biopsy consistent with coagulative necrosis in the muscle/subcutaneous tissue. Immunohistochemistry was positive for melioidosis.
Based on the findings, the patient was diagnosed with infective myositis because of melioidosis. The patient was treated with eradication therapy with oral cotrimoxazole 960 mg 12-hourly and was continued for 6 months. The patient reported a resolution of symptoms at his 2-week follow-up.
References
Infective Myositis Secondary To Melioidosis, A Rare Case Reported https://speciality.medicaldialogues.in/infective-myositis-secondary-to-melioidosis-a-rare-case-reported