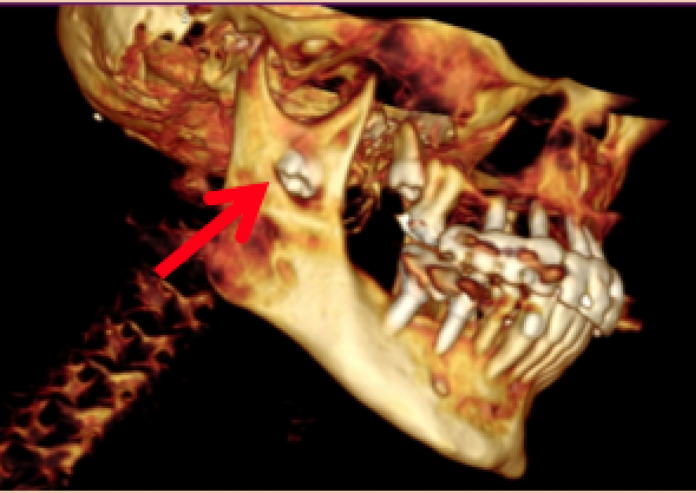 A 41-year-old patient presented to the ENT (Ear, Nose and Throat) department with right side facial swelling. Initially he was suspected to have right sided parotitis and the source of infection was identified to be the ramus of the mandible. The facial swelling had appeared 4 weeks ago associated with trismus. The patient's medical history was clear of any previous illnesses and known allergies. However, he admitted that he smoked 20 cigarettes a day. The swelling was intermittent with pain on eating , which led him to pay a visit to the hospital.
Differential diagnosis included neoplastic causes, infected cystic lesions, trauma, angio-oedema and right parotitis. A subsequent ultrasound was performed which showed an abscess and fluid collection. He was prescribed IV antibiotics and dexamethasone to reduce risk of airway compromise and was further monitored for treatment while the cause of the swelling was still being investigated.
For further evaluation, CT of the neck was requested and the patient was transferred to the Oral and Maxillofacial Department. Clinical examination revealed right sided facial swelling in the buccal region; the swelling was firm and warm to touch. No pus discharge was present intra-orally. Laboratory tests were consistent with neutrophilia and raised inflammatory markers.
A dental panoramic tomogram (DPT) was taken which confirmed that an ectopic tooth was located high up in the ramus. The diagnosis of a dental abscess secondary to the lower right wisdom tooth was made.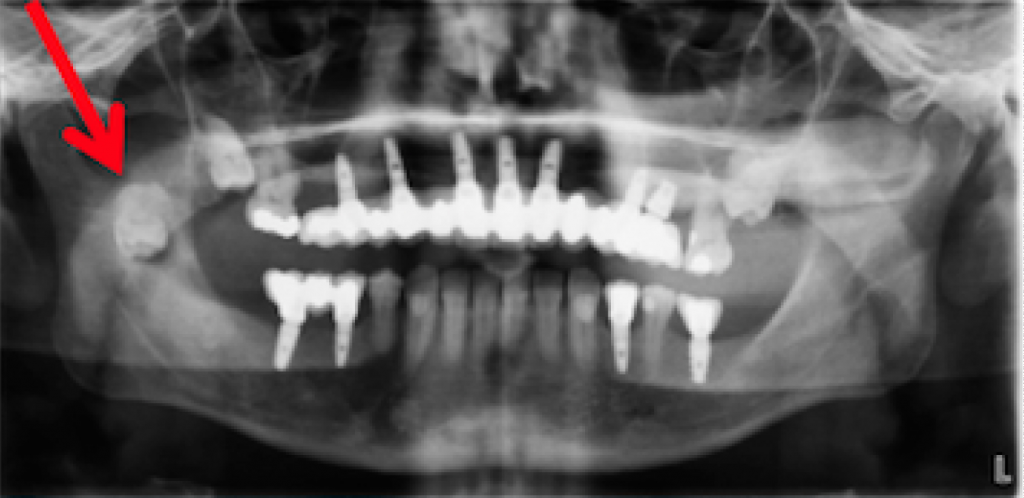 For treatment, an emergency incision and drainage of the facial abscess was done under general anaesthetic. An incision was made to the ramus, where the tooth was visualized directly. Copious irrigation was performed and approximately 100 ml of purulent fluid was drained. Ectopic wisdom teeth are quite rare, in addition, it is also more uncommon to see lower wisdom teeth in the ascending ramus of the mandible.
The patient stayed in the hospital for two days and was seen for a follow-up two weeks post-op. The swelling had abated and there was no further purulent collection. The patient further opted for removal of the tooth after being presented with the pros and cons of both leaving the tooth in place or removing it. He was placed on a waiting list in the Oral and Maxillofacial department for elective removal of the tooth.
References
An Infected Ectopic Wisdom Tooth in the Ascending Ramus https://clinmedjournals.org/articles/iaoms/research-reports-in-oral-and-maxillofacial-surgery-rroms-4-039.php?jid=iaoms