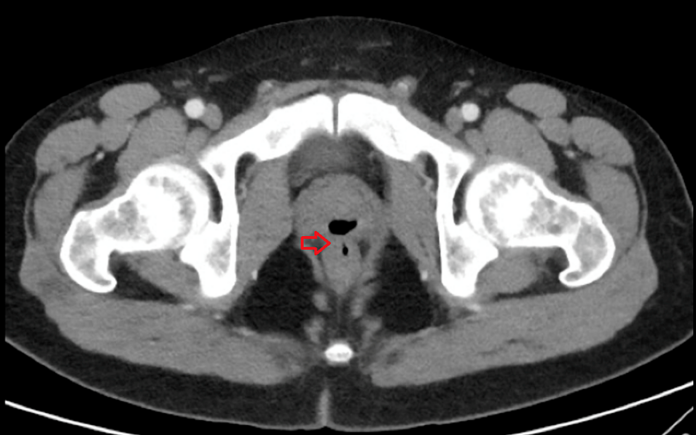 Rare case of rectal-prostate fistula
This article describes a rare case of rectal-prostate fistula, which is an uncommon anatomical connection between the urethra and rectum. It is typically iatrogenic but can also be because of an underlying pathology. The 33-year-old man presented to the hospital with a 5-day history of pain in his testicles.
The patient's history revealed that this pain was actually the least of his problems. He had been passing gas in his urine for the last two years, urinating fecal matter and passing urine and semen from his rectum. Examination showed that the patient had swollen testicles with signs of a urinary tract infection. For further evaluation, a digital rectal exam was performed which showed a problem in his rectal wall. Doctors further advised a computed tomography and voiding cystourethrogram (VCUG) of the pelvis which was consistent with a rectal-prostate fistula. The patient was treated with pipercillin tazobactam and the fistula was repaired surgically.
While looking for possible causes of the fistula, doctors ruled out penetration, rectal trauma, inflammatory bowel disease and tuberculosis
On questioning further it was revealed that 2 years before his presentation, he had been in a 3-week coma because of cocaine and phencyclidine intoxication. During his hospital stay he was fitted with a Foley catheter which most likely caused the injury.
The VCUG was repeated which showed resolution of the fistula. And the patient recovered with mildly reduced antegrade ejaculatory volume over several months period. The study further highlighted that that while urethral catheters are effective tools in healthcare, it is essential for doctors to be aware of the potential complications foley catheters can cause. "Physicians should note other potential risks such as urethral injuries," the team write. "This case not only highlights a rare complication of catheter use but also emphasizes the importance of provider mindfulness when utilizing seemingly benign therapies such as Foley catheters."
Source: Cureus