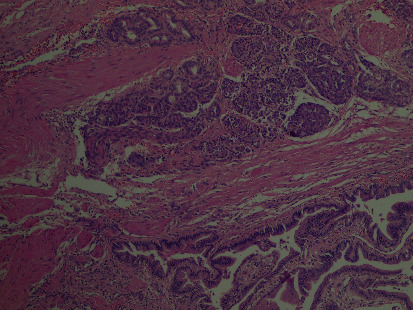 Heterotopic pancreas is an extremely rare finding.
It is defined as the congenital presence of pancreatic tissue outside its normal location.
The condition has a similar presentation as any other cholecystopathic diseases.
This article describes the case of a 49 year-old male patient who presented to the emergency department with complaint of progressively worsening upper right abdominal pain. The patient described the pain as dull aching in nature with a 24-hour history of vomiting. Doctors diagnosed him with heterotopic pancreas in the gallbladder.
The patient's medical history revealed that he would often experience mild abdominal pain, especially with fatty meals. This had been going on for the past 6 months. Examination showed that the patient's heart rate was 85 beats/minute, blood pressure 140.85 mm, temperature 37.4 °C and respiratory rate 16 breaths/minute. Abdominal examination was also significant for localised tenderness in the right upper quadrant and a positive Murphy's sign.
Laboratory tests showed an increase in WBC count. Other tests including aspartate aminotransferase, alanine aminotrasnferase and total bilirubin were slightly below normal levels. However, serum electrolytes, creatinine and urea were within normal limits. Doctors advised sonographic examination which showed a thin gallbladder with two stones, measuring 12 and 4 mm impacted in the neck.
Treatment included a laparoscopic cholecystectomy. Operative findings included an oedematous gallbladder with an adherent omentum. The dissection around the cystic duct was difficult with only a single stone, measuring 15 mm identidied in the gallbladder specimen. The patient's recovery period was uneventful and was discharged the next day. The patient remained asymptomatic for the next 6 months.
References
Heterotopic Pancreas in the Gallbladder: Case Report and Literature Review https://www.ncbi.nlm.nih.gov/pmc/articles/PMC7867455/