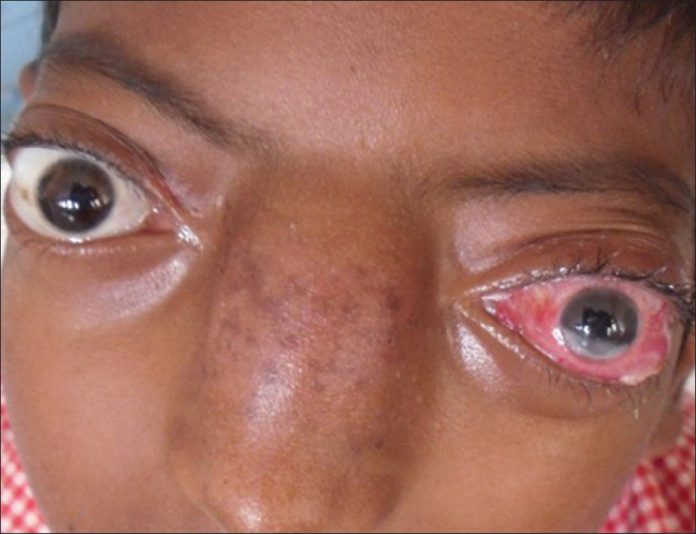 Parents presented a 10 years old male child to seek medical attention. According to parents, their child experienced on-and-off onset of epistaxis. To begin with, parents informed about inconclusive results of an endoscopic biopsy. They performed the endoscopic biopsy is some other lab. Gradually, the epistaxis subsided but parents observed that the nose bridge of their child was widening. It was accompanied with proptosis and gradual bilateral loss of vision. Doctors admitted the child and a week before admission the child experienced epistaxis one more time. It was close examination which helped is diagnosing the patient with Ewing's sarcoma.
Close examination helped in diagnosis.

Above all, the facial appearance of child had changed abruptly. Additionally,nose and eyes had swollen up. Pinkish tumor, which was clearly visible through the anterior nares, had widened the nasal bridge. As far as the vision of child was concerned, his visual acuity had decreased dramatically. He could count fingers at a distance of only one and two meters from his left and right eyes respectively. Bilateral protosis and conjunctival chemosis were clearly observable. Doctors diagnosed him with Ewing's Sarcoma.
Ewing's sarcoma is an extremely rare bone tumor which develops in children and young adults. In this case, the Ewing's sarcoma originated from the ethmoid sinus and extended into the anterior cranial fossa, bilateral nasal cavities, orbits and maxillary sinus. Due to this pattern of malignancy the patient presented complaints concerning the surrounding structures; proptosis, painful opthalmoplegia, decreased visual acuity along with broadening of the nasal bridge, and epistaxis. The most astonishing fact here is that Ewing's sarcoma commonly involves long bones followed by pelvis and ribs. In merely 4% cases skull is involved. The most common site for the occurrence of Ewing's sarcoma is temporal bone. Frontal, parietal, occipital, sphenoid and ethmiod stand next. Ethmoid has the least probability of being involved in Ewing's sarcoma. This case has fallen right into that odd probability!

CT scan provided confirmed status and extent of Ewing's sarcoma.The results revealed a well-defined lesion which enhanced on contract. In particular, this hyperdense lesion had dimensions 8.2 x 8.6 x 9.2 cm². This peculiar bone tumor was located in basifrontal region. Moreover, it extended from ethmoid sinus into bilateral nasal cavities, orbits and maxillary sinus as shown in the figure below.

Transcranial-Transnasal approach.

Patient reported complete visual loss soon after admission. This compelled emergency surgical decompression.The approach employed in this case was transcranial-transnasal. In this case, surgeons practiced a near-total excision. Particularly,three layers namely fascia lata, split calvarial bone flap and pericranium repaired the anterior cranial fossa floor. During surgery, doctors observed greyish-white extradural tumor which extended towards ethmoid sinuses, nasal cavities, orbits, maxillary sinuses, nasopharynx and lesser wing of sphenoid.
Post-operation observation revealed dramatic decrease in proptosis. The patient could count fingers at a distance of 4 meters from right eye and from left eye only with perception of light.
This was a case of surgical emergency. The treatment constituted of aggressive surgical excision followed chemoradiotherapy. The patient responded really well to the chemoradiotherapy which continued for 10 cycles. Medical practitioners observed no radiological or clinical recurrence during the follow-up of 11 months.The results were quite satisfactory.