A recently published study has found shock therapy, or electroconvulsive therapy, safe for treating individuals with severe depression.
Shock therapy, or electroconvulsive therapy (ECT), is often looked upon as a barbaric therapeutic intervention in the field of psychiatry. Much of the stigma around the intervention stems from the procedure's early use where it led to severe side effects in patients. Moreover, several movies and television programs portray the procedure as a form of torture. Films such as 'One Flew Over the Cuckoo's Nest' and 'Joker' have often followed this narrative; thus, fueling the misrepresentation even further.
Now, a recent study by researchers at the Centre for Addiction and Mental Health (CAMH) in Toronto have compared the risk of serious medical complications in those who received ECT and those that did not. The team, led by CAMH researcher Dr. Tyler Kaster, analyzed psychiatric records of over 10,000 patients who had undergone at least three days of hospitalization due to their depression. Half the patients received ECT, while the other half did not undergo shock therapy.
The team looked at the occurrence of any serious medical event or suicide within 30 days of receiving ECT. They compared their findings to the group that received standard care. Results of the study are available in the journal Lancet Psychiatry.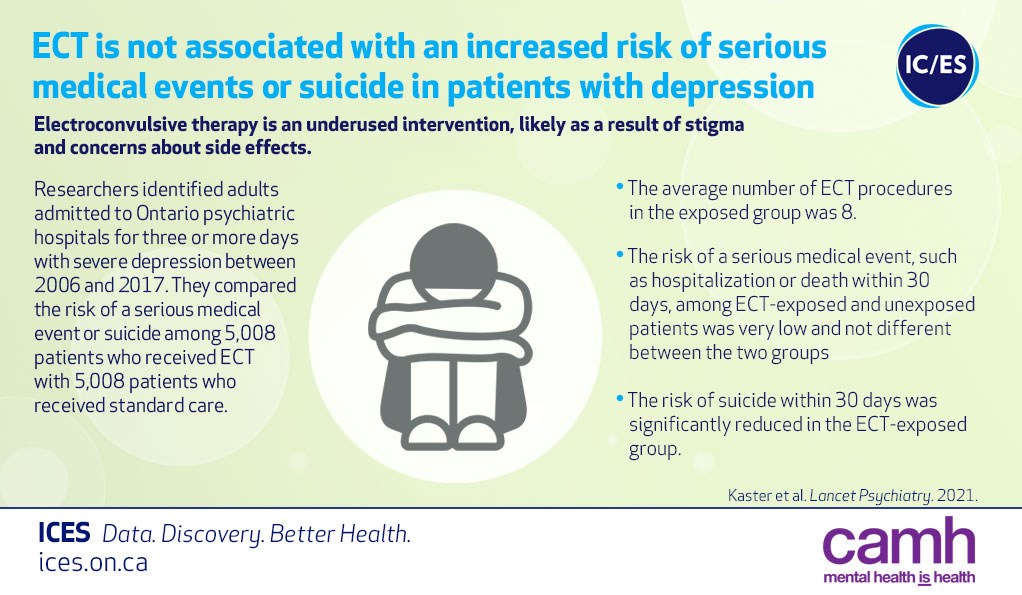 Risk of Suicide Significantly Reduced
Electroconvulsive therapy involves passing small currents through a person's brain using electrodes. The small electrical pulses trigger a brief seizure; thus, bringing about a change in the brain's chemical activity. The procedure is often used for treating treatment-resistant depression and other psychiatric conditions. In the past, the procedure was often done without any anaesthesia or medications. However, today doctors first administer general anaesthesia to the patients and administer muscle relaxants to prevent severe side effects.
According to the study, patients that received ECT did not demonstrate a significantly increased risk for serious medical events as compared to the other group. Researchers did not note an increased prevalence of non-suicide death or hospitalizations among the ECT group. Moreover, the risk of suicide was much lower in those that received ECT.
However, it is important to note that a single session of electroconvulsive therapy is not a cure for depression. Patients can relapse; therefore, they continue to receive ongoing care and maintenance ECT sessions.
Reference:
Kaster, T. S., Vigod, S. N., Gomes, T., Sutradhar, R., Wijeysundera, D. N., & Blumberger, D. M. (2021). Risk of serious medical events in patients with depression treated with electroconvulsive therapy: a propensity score-matched, retrospective cohort study. The Lancet Psychiatry. https://doi.org/10.1016/s2215-0366(21)00168-1