A revolutionary breakthrough in the tedious process of the electroencephalogram.
Up until Zeto, the medical technology startup, made this breakthrough transformation in the way electroencephalogram is done, the process of EEG was tedious, time-taking, operator-dependant, and discomforting for the patient.
With Zeto's Instant EEG Platform (zEEG), the process has been made easier. A wireless, comfortable, dry electrode headset has been designed to be worn like a helmet and record the brain activity without needing an operator, consequently providing a quick result without the need of a technician.
Such discoveries help reduce the burden on the healthcare sector by minimizing the role of staff in time-consuming procedures; instead, the staff and the attention can be diverted to procedures that actually require human interaction.
With this revolutionary wireless EEG headset, the patient doesn't need to be prepped per se. No gel is required, and no clean-up is needed. Both urgent and routine EEG can be performed. The headset is comfortable with soft support pads for nose shielding.
After the brain activity is recorded, the collected data is instantly streamed to a secure HIPAA compliant cloud platform that provides a live display. The results can be then be analyzed and also remotely interpreted by the neurologists. The cloud can be accessed from any internet-enabled device.
Has the new device been tested?
Three clinical studies were performed by Zeto involving 50 subjects. Recordings were collected simultaneously from Zeto EEG (zEEG) and Clinical EEG (cEEG). It was concluded that the signal quality is excellent and quite comparable to the FDA-cleared traditional EEG systems. The studies involved simultaneous recordings using both Zeto EEG (zEEG) and Clinical EEG (cEEG). The electrodes were placed about 1-2 cm from each other. For sample results, see below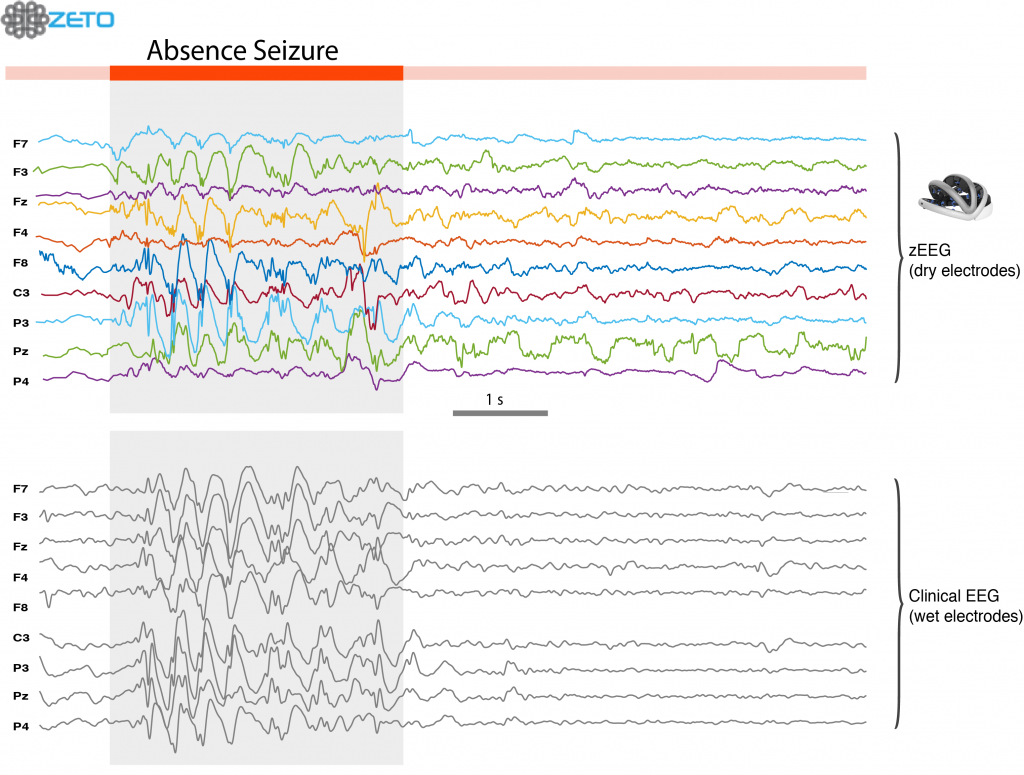 Why zEEG?
zEEG provides faster results at a lower cost, minimizing the operators, thus providing hospitals and clinics with a cost-effective and convenient alternative to the traditional EEG. Zeto also provides an opportunity for the facilities that do not have access to trained EEG operators or neurologists.