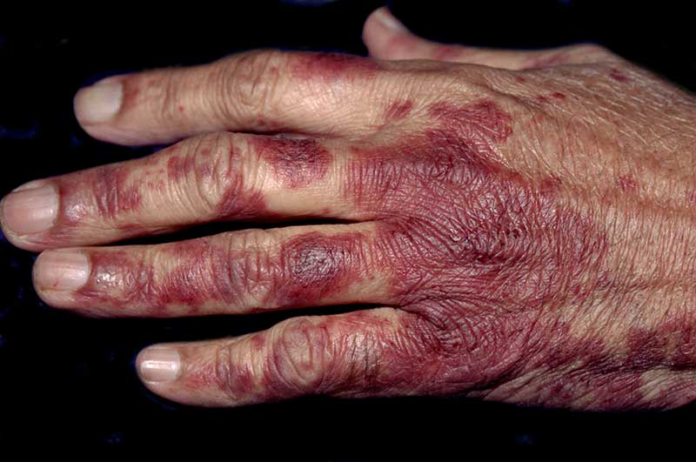 Acral erythema in patient with non-Hodgkin's lymphoma
This article describes the case of acral erythema in a 61-year-old woman with a history of non-Hodgkin's lymphoma. The lesions appeared after the patient developed severe neutropenia. The event occurred during therapy with methotrexate and leucovorin rescue, bleomycin, prednisone, vincristine, cyclophosphamide and doxurubicin. Presenting symptoms of the disorder include intense and painful erythema of the palms and soles. In severe cases, the erythema progresses to the formation of vesicles and bullae. Chemotherapeutic agents are a known cause of the condition, as with this case.
Acral erythema also referred to as palmoplantar erythrodysesthesia and hand-foot syndrome is a common cutaneous reaction that can be caused by a variety of chemotherapeutic agents. It commonly presents during cancer treatment affecting the palms and soles. It has also been noted that its appearance depends on the cumulative dose of the chemotherapeutic agent and peak plasma concentration. The symptoms and histopathological findings of acral erythema suggest that the direct toxicity affects the epidermis of the extremities, caused by the high concentrations of the chemotherapeutic agents.
Studies have shown that genetic polymorphism of enzymes involved in the metabolism of some fluoropyrimidines. For example, Capecitabine, used for the treatment of breast, colorectal and gastric cancer is a culprit in the development of polymorphism of enzymes. In most cases, the condition is dose-dependant. Peak drug concentration and total cumulative dose determine its occurrence. More commonly, drug concentrations that result in sustained serum levels of cytotoxic agents is associated with acral erythema.
Multitargeted tyrosine kinase inhibitors and other angiogenesis targeting drugs are also associated with hand-foot skin reactions. However, the clinical and histological pictures of the reactions differ from typical erythema that develop in standard cytotoxic agents.
Treatment and management
Treatment includes discontinuing the treatment and starting symptomatic treatment for pain relief, to prevent superinfection and to decrease oedema. Symptomatic treatment includes pain medication, alcohol-free emollients and wound care. In several cases modification or reduction of the drug is required, if it cannot be discontinued or substituted with another cancer drug or treatment.
The lesions usually resolves within 2 to 4 weeks of drug cessation.
Source: NEJM