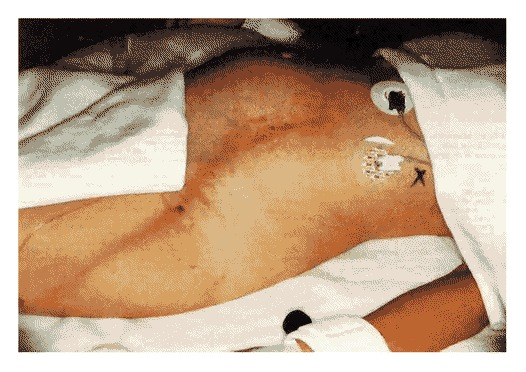 26 weeks pregnant woman struck by lightning
This article highlights the case of a 41-year-old woman who was struck by lightning while standing under a tree during a thunderstorm. The woman was 26 weeks pregnant when she was struck by the lightning. The lightning entered the right side of her body through her necklace and left her body through the left leg where it also left a cutaneous print. After entering the woman's body, the lightning went toward the ground and was deflected by the baby's head. The woman survived through the lightning strike but her baby died.
According to statistics, lightning is one of the leading causes weather-related fatalities. However, the odds of being struck by lightning are only 1 in 500,000. There are some factors that put you at a higher risk of being struck. These include, regional, seasonal and occupational differences. While lightning is common is all regions of the United States, the southeastern states are more likely to be struck. Generally, the risk of lightning decreases from southeast to northwest, except for a few places including rocky mountains. Getting struck by lightning is actually quite life threatening. It has the ability to send electricity through metal pipes, electrical wires and metal reinforcements to concrete walls and floors.
The injuries can range anywhere from a mild burn on your body to damaging your brain to death
Although rare, lightning can occur at any time of the year and cause dangerous injury. According to an emergency physician with Atrium Health, Christopher Griggs, MD, "When we do see it – the injuries can range anywhere from a mild burn on your body to damage to your brain to death. It really depends on how close you are and how exposed you were to the lightning strike."
If a person is struck by lightning, it can cause cardiac arrest and direct injury to the brain and nervous system. Injury to the brain prevents it from sending signals to tell the body to continue to breathe. It can also lead to brain haemorrhage or stroke, deep thermal burns and tissue injury. These injuries can impact a person for the rest of their lives, resulting in neurological and muscular complications. Those suffering with muscle injury are at an increased risk of developing rhabdomyolysis which manifests with a toxic protein flooding in the bloodstream. This can potentially lead to kidney damage.
You can also suffer from ruptured eardrums from the sound waves even if you are just near the site. And not directly affected by it. "It really all depends on how direct the strike is," Dr. Griggs says. "A person can survive a direct strike – it really depends on how much energy traveled through the body and what organs were affected."
Source: NEJM