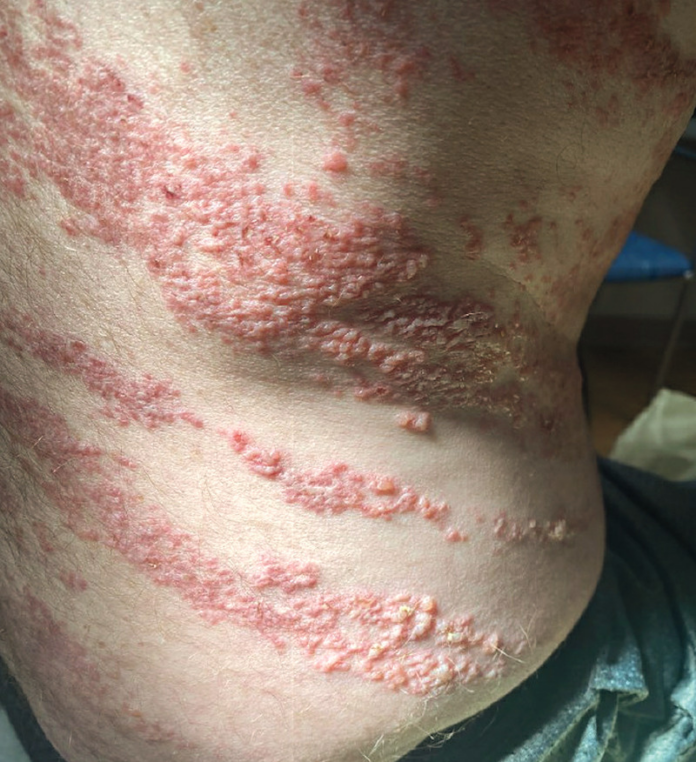 Itching and burning rash post varicella-zoster vaccine
This case is of a 67-year-old male who presented to the dermatology clinic with an itchy and burning rash. The rash was present for a week on his back and right trunk. The rash appeared after his prostatectomy procedure for prostate cancer after the patient was discharged from the hospital. Furthermore, he told the doctors that he had developed a rash like this one 20 years ago, after a surgical procedure. In addition, he reported getting a jab for the varicella-zoster vaccine several years before his current presentation. The patient was diagnosed with linear Darier's disease.
Doctors did a skin examination, which revealed the significant presence of confluent and friable vesicles on the erythematous base. They were distributed along the lines of Blaschko and did not cross the midline. Moreover, the doctors did a Tznack smear test that showed no viral cytopathic changes. To rule out the varicella-zoster virus, doctors did a polymerase chain reaction assay, which was also negative. However, the biopsy specimen revealed intradermal vesicles with acantholytic dyskeratosis, which was consistent with Darier's disease. 
Linear Darier's disease: an autosomal dominant disorder
Darier disease is an autosomal dominant disorder of keratinization, which is classified as a hereditary acantholytic dermatosis. In most cases, the typical presentation of Darier generally consists of scaly and crusted papules in a seborrheic distribution in the head, chest, and skin folds. 
Diagnosis and treatment
Based on the findings of the investigation, the patient was diagnosed with linear Darier's disease. It is a non-inherited variant of the disease that can be misdiagnosed as shingles. He was treated with topical glucocorticoids. Similarly, the patient was called back for a follow up after 6 weeks. The rash had completely resolved by this time.
Source: NEJM