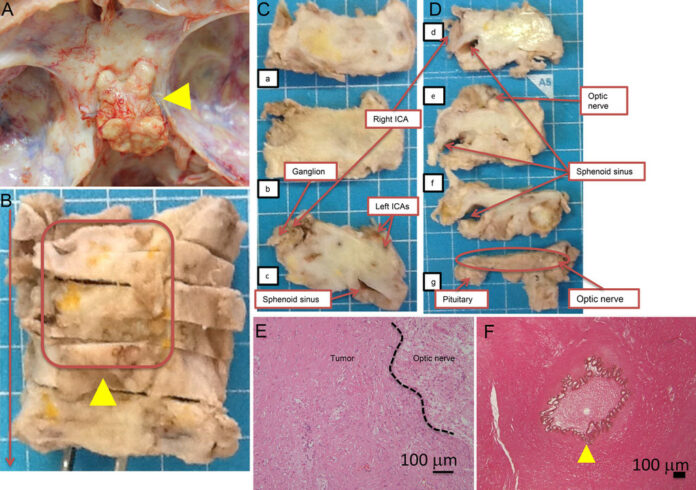 Intracranial fibromatosis in 22-year-old
This article describes the case of a 22-year-old woman who presented with left painful ophthalmoplegia, a paralysis or weakness of the eye muscle and decreased visual acuity. The otherwise healthy woman was diagnosed with aggressive intracranial fibromatosis. Doctors referred the patient for magnetic resonance imaging (MRI), findings of which showed a left seller tumour with cavernous sinus invasion.
Two months after the patient was referred to the department, an endoscopic transsphenoidal surgery was performed. On examination, the lesion was hard and elastic and had a slightly clear margin between the pituitary and mass. However, it was seen strongly adhering to the left cavernous sinus. As a consquence, a bleed from the left internal carotid artery (ICA) was also encountered. Doctors performed a hemostasis with a hemostatic agent. The patient had an uneventful recovery after the procedure.
Post-op MRI showed only partial resection of the tumour, whereas follow-up angiography showed pseudoaneurysm at the left cavernous portion of the ICA
Similarly, because the lesion could not be completely resected, the patient was given steroid pulse therapy. However, it was ineffective. A few months later the tumour recurred with symptoms of visual acuity loss, panhypopituitarism, trigeminal neuralgia and abducens nerve palsy. A histopathological analysis of the lesion was done, findings of which were consistent with intracranial fibromatosis.
Intracranial fibromatosis is an aggressive fibroblastic lesion that affects the musculoaponeurotic structures in the limbs and trunk. The lesion is extremely rare and requires an aggressive treatment approach to prevent it from recurring. Based on the pathological review, doctors diagnosed the lesion as primary IAF. The patient was referred for a gamma knife radio-surgery and chemotherapies.
The patient was further referred for an MRI which showed signs of cerebral stroke, invasion of the tumour, occlusion and stenosis. Doctors suggested palliative care because of ineffective treatment. She died 32 months after the onset. The patient's autopsy revealed that the tumour had invaded the cavernous sinus, optic nerve, hypothalamus, pituitary with signs of tonsillar herniation because of a massive cerebral stroke.
According to the case study, the patient was initially suspected to have an inflammatory myofibroblastic tumour and was introduced to steroid pulse therapy. However, a few months later the patient presented with symptoms of aggressive intracranial fibromatosis. Doctors then started her on hormone replacement therapy but was stopped because of tumour progression.
Source: JNS