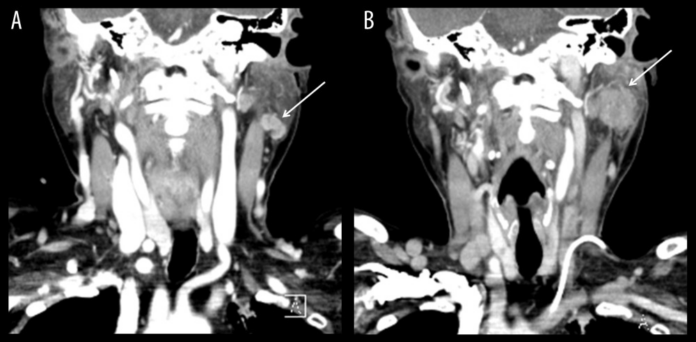 A rare case of breast cancer metastasis to the parotid gland
Breast cancer metastasis in the salivary gland is a rare occurrence. However, when it does occur, the parotid gland is most commonly involved, thus, radiologists should be aware of the possibility. Only a very few cases of breast cancer metastasis to the parotid gland, which describe the imaging findings, have been reported. In this case, a 59-year-old woman with a 6-year history of breast cancer presented with a recently growing mass in her left parotid. The patient's medical history revealed that she was diagnosed with breast cancer 6 years ago.
The 59-year-old was diagnosed with invasive ductal carcinoma with human epidermal growth factor receptor 2 (HER2) immunophenotype. Treatment included left modified radical mastectomy with axillary lymph node dissection followed by adjuvant chemotherapy, radiation therapy and trastuzumab. During the patient's follow-up, she presented with multiple metastases that involved the right axilla, liver, skin, bone and brain. Doctors subsequently treated the patient with palliative chemotherapy. Physical examination showed a hard mass in the left parotid gland.
Prognosis
The patient was further referred for a neck ultrasound which revealed a 2 cm heterogenic echoic mass with indistinct margins, irregularly shaped with weak rim vascularity. The patient further underwent an ultrasound-guided biopsy of the left parotid gland. The histopathological analysis was significant for metastasis from ductal carcinoma of the breast. Additionally, it was with positive expression for HER2 and negative for the estrogen receptor, progesterone receptor and androgen receptor. The study further states that the patient was not evaluated for the parotid mass "because of work-up and treatment of her brain metastasis". Neck CT was repeated on a follow-up which showed an increase in the size of the mass, measuring 2.2 cm. Other findings included multiple enlarged lymph nodes in the left cervical neck chain, left jugular vein thrombosis and left pleural effusion. The patient died 2 months after diagnosis and treatment, despite treatment with palliative chemotherapy and trastuzumab.
Source: American Journal of Case Reports