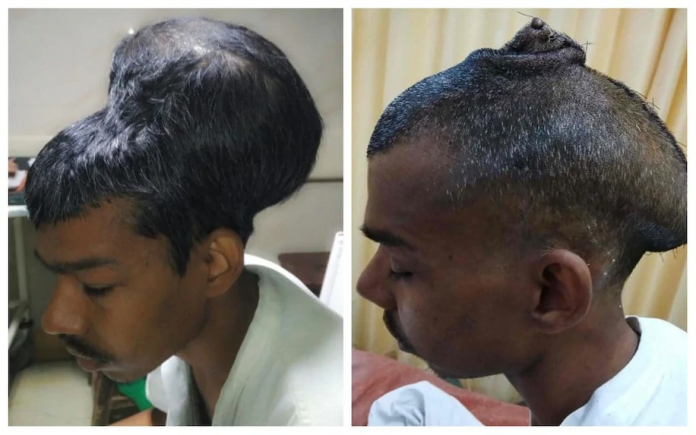 A brain tumour is a mass of growth of abnormal cells in the brain. It can either be benign or malignant.
If the tumour is located in a place that makes it accessible for surgical removal, the surgeon will remove as much of the brain tumour as possible.
However, in some cases, the tumour cannot be separated from the surrounding brain tissue or is located in a sensitive area of the brain, making surgical removal risky.
Removing even a portion of the tumour may help reduce signs and symptoms.
For several years, a 31-year-old shopkeeper, Santlal Pal, from India watched a tumour emerge from the back of his head. The tumour weighed nearly 4 pounds and measured 20cm by 30cm by 30cm. He had been living with the tumour for three years and even lost his vision because of it.
The tumour was possibly the largest tumour in the world. According to the patient's brother, the tumour had grown over an inch in a month. Moreover, despite chemotherapy, the tumour continued to grow.
He had consulted several doctors but it was of little or no avail. Earlier, the doctors had told him that the tumour was inoperable because of the risks it carried. According to the doctors, about 10 percent of the tumour was growing within his skull, putting pressure on his brain, causing him to lose his eyesight. Surgically removing the tumour carried its own risks of neurological damage and paralysis.
However, after an extensive evaluation, the doctors were successfully able to remove the tumour in an operation that lasted for 6 hours.
There are several types of tumours that require different treatment approaches. Whereas, surgical removal has its own risks. In this case, the surgical procedure required cutting open the scalp to remove the tumour. Similarly, a part of the tumour was removed by making an opening in the skull. He was administered 11 units of blood during surgery and was on ventilator for three days after the procedure was done.
Pal lost his vision because of the tumour but doctors were hoping that he would also regain his eyesight as he continued to recover from the surgery.
References
India doctors remove world's 'largest brain tumour' https://www.bbc.com/news/world-asia-india-43151120