A 30-year-old female patient presented to the emergency department with excruciating pain and difficulty walking after she was attacked by a vicious animal while walking in the woods.
A 30-year-old female patient presented to the emergency department after a vicious animal attack. The patient was in excruciating pain after she was attacked by an unknown animal. In addition to this, the patient endured significant wounds to her left leg, forearm, shoulder, back, ear and face associated with skin, tissue and muscle damage.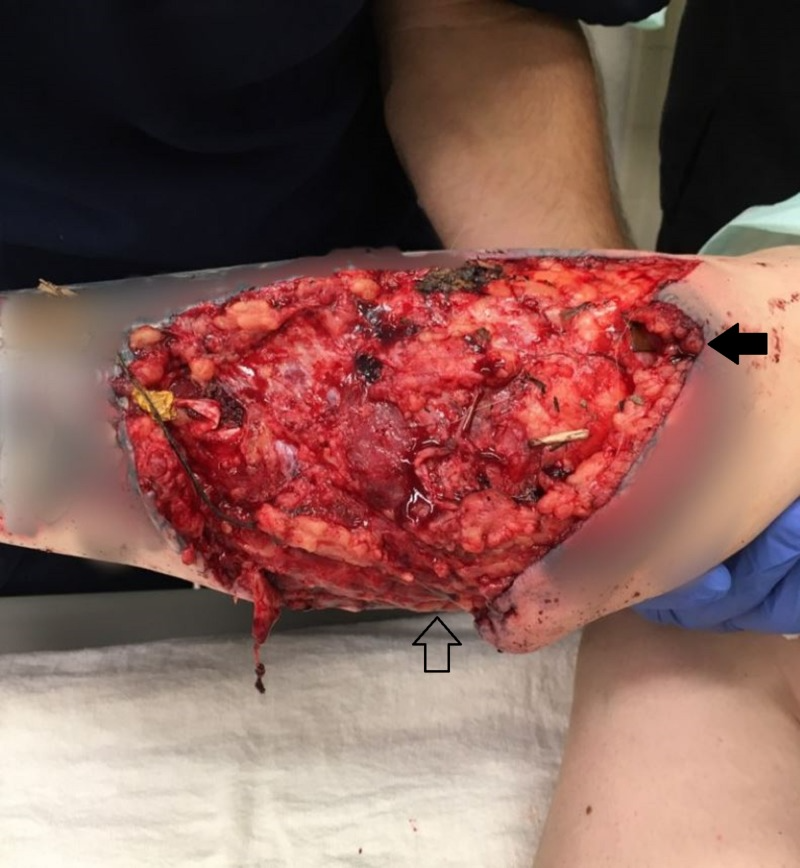 For further evaluation she was prescribed imaging including rabies vaccine, antibiotics and a tetanus booster. The imaging showed no signs of fracture. The wound was thoroughly evaluated by the trauma team. Similarly, considering the nature, size and contamination of the wounds, a multidisciplinary intervention with plastic surgery was indicated. The wound on the patient's leg measured to be 15 cm in height and 12 cm in width. The wound had an extensive skin, subcutaneous tissue and muscle involvement including soleus, fibularis longus and gastrocemius.
Although, the patient did not show any signs of vascular injury and had full range of motions with sensations intact. The patient was told to continue with antibiotics, compressive wraps were placed and the leg was splinted to prevent contracture.
The patient returned to the OR four days after the procedure and her lower extremity was irrigated with betadine and a bilayered DRT (dermal regeneration template) was placed. On follow-up, the DRT showed excellent take with no signs of infection, seroma or hematoma. In addition, a meshed split-thickness skin graft was stapled into place. Moreover, the patient regularly visited the outpatient clinic for follow-ups for several months and the split-thikness skin graft was seen to have 100% take. Similarly, the donor site showed appropriate healing.
References
Vicious animal attack https://medihelp.life/complex-wound-closure-vicious-animal-attack/