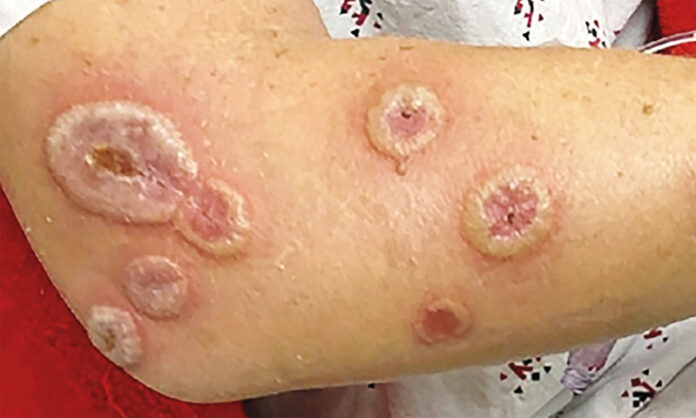 Acute Febrile Neutrophilic Dermatosis
Acute febrile neutrophilic dermatosis also known as sweet's syndrome is a rare skin condition that causes fever and a painful skin rash. The rash is typically seen on the arms, face, and neck. The cause of the syndrome is currently not known but it is often known to be triggered by medication, illness, or an infection. Treatment commonly includes corticosteroid pills. Signs and symptoms often go away after a few days of treatment, but there is a high risk of them coming back. This article describes the case of acute febrile neutrophilic dermatosis with unknown aetiology in a 46-year-old woman.
The patient presented to the emergency department with a 2-day history of an erythematous lesion on her left thumb which had developed over the course of 2 days. Doctors gave her a preliminary diagnosis of paronychia and treated her with oral clindamycin. However, by the 7th day of treatment, the size of the initial lesion increased, with development of multiple painful, circular lesions with central erosions. Crusting had developed on her face, feet, hands and arms. Her medical history did not reveal any recent viral or other infections, nor did she have any current or previous gastrointestinal symptoms that suggested inflammatory bowel disease.
Investigations and diagnosis
For further evaluation, doctors ran some tests which showed a leukocyte count of 11,700 per cubic millimeter (reference range, 4100 to 10,700) and a normal glycated hemoglobin level. All other tests for antinuclear antibodies, syphilis, HIV and antineutrophil cytoplasmic antibodies were all negative. The patient also tested negative for viral hepatitis. One of the lesions was biopsied which showed neutrophilic inflammatory infiltrate, consistent with the diagnosis of acute febrile neuropathic dermatosis. The condition can mimic an infectious process, therefore, making it important to consider. Especially if the lesions do not abate with antibiotic treatment.
The patient was started on oral prednisolone. 48 hours after treatment, the pain, discolouration showed improvement and the size of the lesion decreased. The patient was called back for a follow-up after a month, on the visit her inflammation had resolved with mild residual skin discolouration. In most cases, as in this case, the cause of the condition is not known. It is sometimes associated with blood cancers and solid tumours, or may also occur as a reaction to medication – commonly a type of drug used for boosting production of white blood cells.
References
Source: NEJM