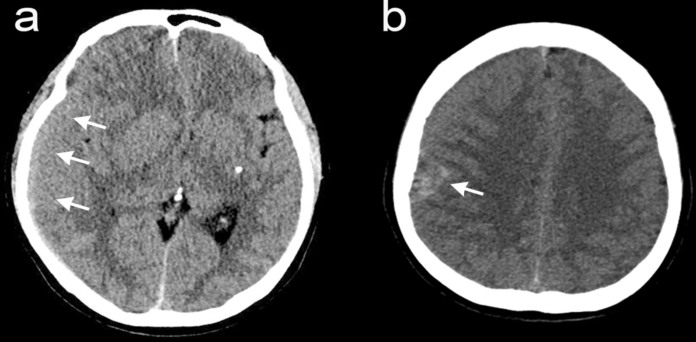 Benign meningioma
Hyper vascular or malignant tumour are rare representations of subdural hematoma, and the frequency is even lesser in benign tumours, for example meningiomas. However, that wasn't the case for the 53-year-old Asian woman with subdural hematoma associated with benign meningioma.
She presented in the emergency with a complaint of severe headache and vomiting for the past two days. Her symptoms showed no trauma. There was no previous medical history either and all her labs were within the normal range. 
Her vitals were normal, and the initial neurological exam showed alert consciousness. There was no sign of abnormality.
CT Results
The CT scan of the brain revealed SDH on the right side with a focal, round shaped, high-density mass in the parietal convexity.
MRI Results
Brain MRI demonstrated a heterogeneously enhanced, round extra axial mass with diffuse SDH in the right fronto-parietal area. Moreover, mild midline shifting was also seen.
The patient was sent to surgery to remove the subdural hematoma and for the removal of the concurrent tumor on the ipsilateral parietal convexity. During surgery, a hypervascular encapsulated mass was identified. It was removed completely, including the adjacent dura mater.
Histo Confirmed Angiomatous Meningioma
The histopathology test confirmed that the tumor was an angiomatous meningioma. The clinical course she went through was uneventful. She was admitted into the neurosurgical department, where she was medically managed for increased intracranial pressure. Mannitol was administered intravenously, and steroid was also given.
Abrupt Deterioration of Neurological Status
The very next day, her neurological status deteriorated suddenly, resulting in stupor. The follow-up CT scan revealed uncal herniation and there was no increase in the SDH volume.
Meningiomas are supposedly benign based on their histological traits. They can cause spontaneous bleeding and unstableness neurologically. Hence, meningiomas are supposedly
References
Benign meningioma manifesting with acute subdural hematoma and cerebral edema: a case report and review of the literature https://jmedicalcasereports.biomedcentral.com/articles/10.1186/s13256-021-02935-x