Swimming led to infection with a brain-eating amoeba. Is swimming even safe?
A 44-year-old man presented to the emergency department with complaints of confusion and cough for 1-day. Six days before presentation, the patient had been swimming in an indoor pool in India.
On examination, the patient's body temperature was 39.8°C, and the heart rate was 120 beats per minute. The patient wasn't responsive; he didn't respond to questions nor blink his eyes to any visual stimulus. The brainstem reflexes were intact, and on painful stimulus, the patient withdrew both arms and both legs.
He had no nuchal rigidity or rash.
Cerebrospinal fluid was collected via lumbar puncture, and the result showed purulent fluid (Panel A) with the following values:
2083 nucleated cells per cubic millimeter (91% neutrophils),
CSF Glucose – 87 mg per deciliter (4.8 mmol per liter) (reference range, 40 to 70 mg per deciliter [2.2 to 3.9 mmol per liter])
CSF Protein – 477 mg per deciliter (reference range, 10 to 45)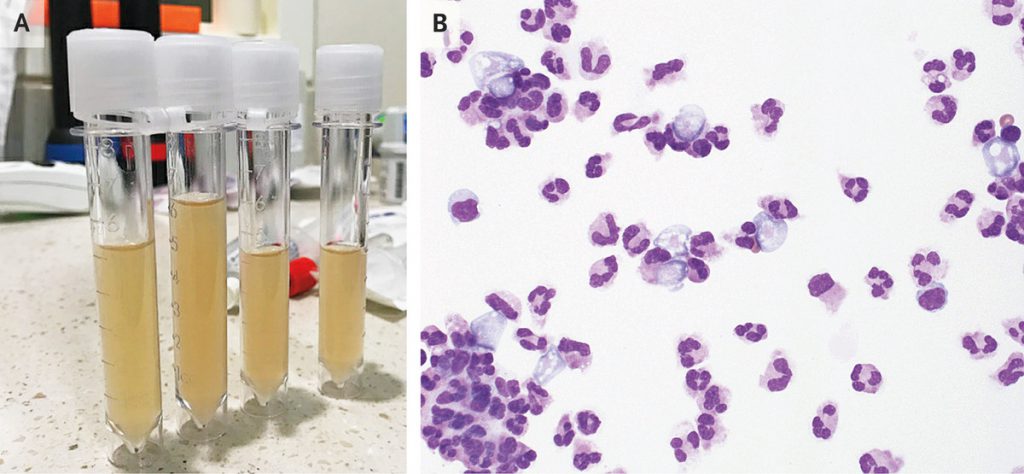 The patient was started on empirical antibiotic therapy with a presumptive diagnosis of bacterial meningitis. His fever subsided after the initiation of the antibiotics, but the mental status remained unchanged.
On the wet-mount preparation of the cerebrospinal fluid using Wright–Giemsa stain, trophozoites consistent with amebas (Panel B) were identified. A polymerase-chain-reaction (PCR) assay identified Naegleria fowleri.
The patient was started on amphotericin, rifampin, fluconazole, azithromycin, and miltefosine. Despite adequate and timely management, the patient, unfortunately, died 5 days after the presentation.
Naegleria fowleri, or Brain-eating Amoeba, is usually seen in freshwater, especially in the summers. The infected people usually give a history of swimming, diving, and submerging in the freshwater. Although rare, some cases have also been reported after rinsing the nose with unboiled water as the plumbing and the water heater can harbor Naegleria.
Naegleria fowleri or Brain-eating amoeba enters the nose through fresh warm waters and travels to the brain tissue, destroying it rapidly.
Is Naegleria fowleri a fatal pathogen?
N. fowleri has been given another name, i.e., brain-eating amoeba due to its fatality and ability to cause primary amebic meningoencephalitis, which a very lethal condition and hardly patients survive the infection. Most cases end up in death despite adequate treatment.
If so, then should swimming be avoided?
In summers, one should be careful in choosing the waters fro swimming. Although a rare infection, it is fatal. However, a properly cleaned, maintained, and disinfected swimming pool is least likely to harbor N. fowleri.
Is N. fowleri contagious?
Naegleria fowleri doesn't transmit from person to person.
Can one prevent N.fowleri infection?
Infection with brain-eating amoeba is rare, but still, there are some possible preventive steps that one can take, including avoiding or limiting the water going up the nose while swimming. Avoid jumping in the warm freshwater lakes; use of nose clips is advisable to avoid the water traveling up the nose while jumping or diving in the warm lakes or rivers.
References
Mayoclinic: Naegleria infection. Retrieved from Mayo Clinic: https://www.mayoclinic.org/diseases-conditions/naegleria-infection/symptoms-causes/syc-20375470
Glenn R. Harris, M. a. (2020, September 10). Naegleria fowleri. Retrieved from The New England Journal of Medicine: https://www.nejm.org/doi/full/10.1056/NEJMicm2002528