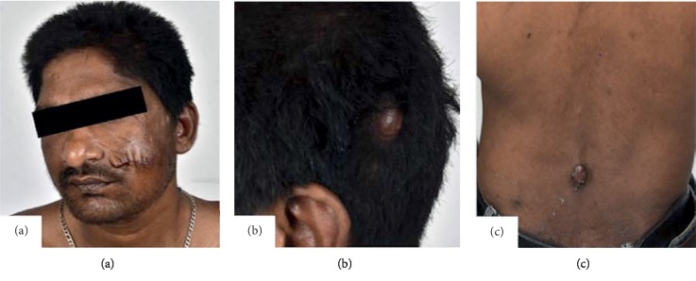 Case of angiolyphoid hyperplasia in 40-year-old, manifesting as subcutaneous nodules and hypereosinophilic syndrome.
This article describes the case of a 40-year-old male patient with angiolymphoid hyperplasia with eosinophilia presenting with benign subcutaneous nodules and hypereosinophilic syndrome. The patient presented with a 8-year history of multiple swellings over his body. The lump had first appeared on the patient's left cheek, followed by similar swellings over the scalp, left axilla, back and right thigh.
Other than cosmetic reasons, the lesions did not bother the patient. Therefore, he did not seek any medical help. The lesions were slow growing, pruritic and painless. Although, he eventually visited the hospital with a 6-month history of intermittent low-grade fever, gradual worsening of breath, involuntary weight loss and anorexia. His medical history also revealed that he had bilateral numbness in his feet. He denied any drug abuse.
Physical examination was remarkable of tachypnoea with a respiratory rate of 24/min. Similarly, there were multiple swellings over his scalp, left axilla, back and right thigh, measuring 2 x 2 cm. The lesions were soft, brownish in colour and had a fleshy feel. There were no signs of hepatosplenomegaly or lymphadenopathy. Auscultation was remarkable of diffuse polyphonic wheeze. In addition, there was graded loss of pain, touch and temperature sensations from the toes to the shin. Deep tendon reflexes were absent.
Diagnosis and treatment
Lab work was remarkable of anaemia and persistent leukocytosis with eosinophilic predominance. However, there were no signs of any abnormal cell lineages in peripheral blood smear. All other investigations were insignificant. The findings were consistent with the diagnosis of angiolymphoid hyperplasia with eosinophilia.
Management included oral corticosteroids with an initial dose of 1 mg/kg of body weight. For symptomatic relief, he was prescribed inhaled bronchodilators. Treatment resulted in a marked improvement in his symptoms. In addition, his eosinophil count reduced after 2 days of steroids. Doctors advised continuing the treatment. At 2 months follow-up, the swellings over his body had reduced in size by about 50%. Doctors planned on tapering off his medications over a period of 4 months.
References
Benign Subcutaneous Nodules and Hypereosinophilic Syndrome: A Rare Presentation of an Uncommon Entity https://www.ncbi.nlm.nih.gov/pmc/articles/PMC6885811/