A 39-year-old smoker and illicit drug abuser presented with a life-threatening complication. A case reflecting light on a complication of marijuana!
The number of marijuana users is increasing day by day. With many states legalizing the use of marijuana, the abuse/use is bound to increase. However, it won't be without excess baggage. The complications related to marijuana and the hospital admission/clinic visits for the evaluation and management of side effects are rising. Some adverse effects are benign and manageable, while others are life-threatening. Here is a case presentation revealing a fatal complication of marijuana.
Clinical Case:
Paramedics brought a 39-year-old African American male patient to the emergency department with complaints of sudden-onset of sharp right-sided chest pain. The patient developed pain suddenly after a coughing spell while he was smoking marijuana. Moreover, he also had shortness of breath along with pain.
There was no history of any physical trauma or injury. However, three months back, he had developed pneumothorax, which the doctors managed by thoracostomy tube. However, definitive surgical management had to be delayed due to coronavirus pandemic. The rest of the surgical, psychiatric, and family history was unremarkable. However social history was significant for daily marijuana use and tobacco smoking.
Examination in the emergency department revealed normal vitals. His oxygen saturation was 96% on 2 litres by nasal cannula. However, auscultation of the chest revealed diminished air entry on the right side of the chest. Also, chest percussion revealed hyper resonance on the right side.
Plain radiograph of the chest (CXR) showed a large, potentially life-threatening, right-sided pneumothorax affecting 50%-60% of the lung.
Although the doctors inserted a chest tube and placed it on suction with persistent air leak, the repeat CXR still revealed an incomplete lung expansion.
Moreover, the computed tomography scan (CT) of the chest also demonstrated extensive bilateral apical bullous emphysema.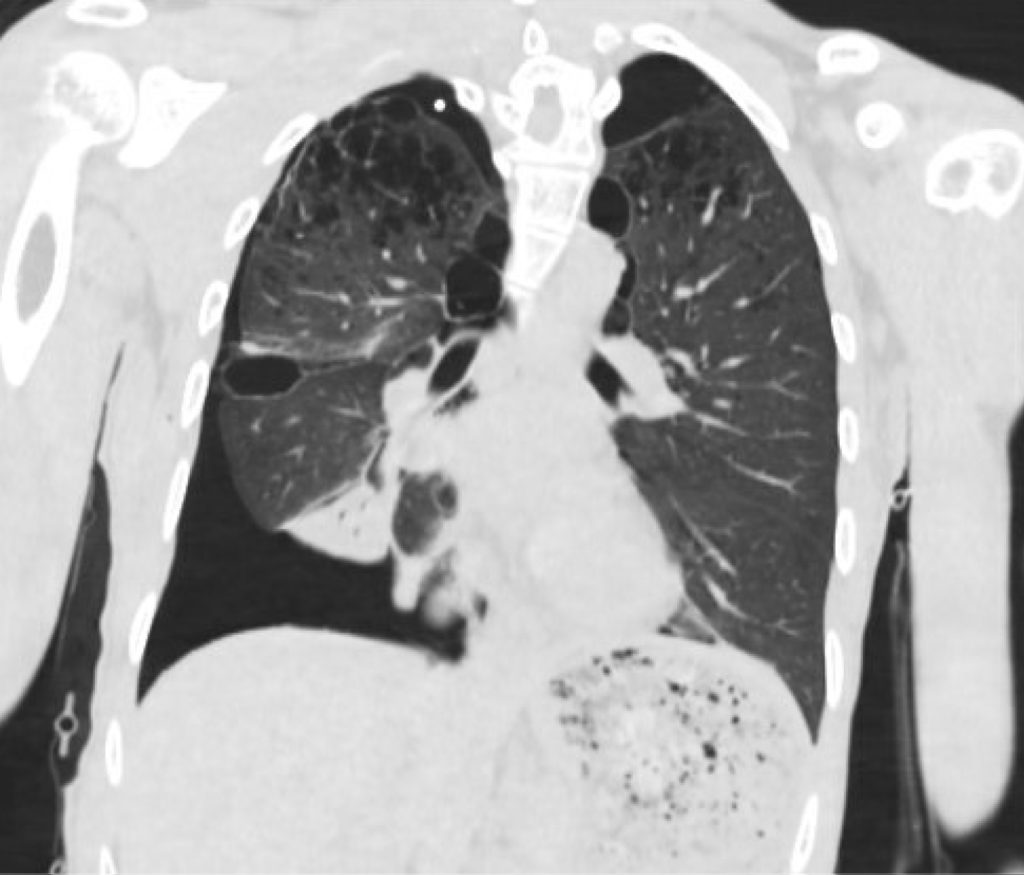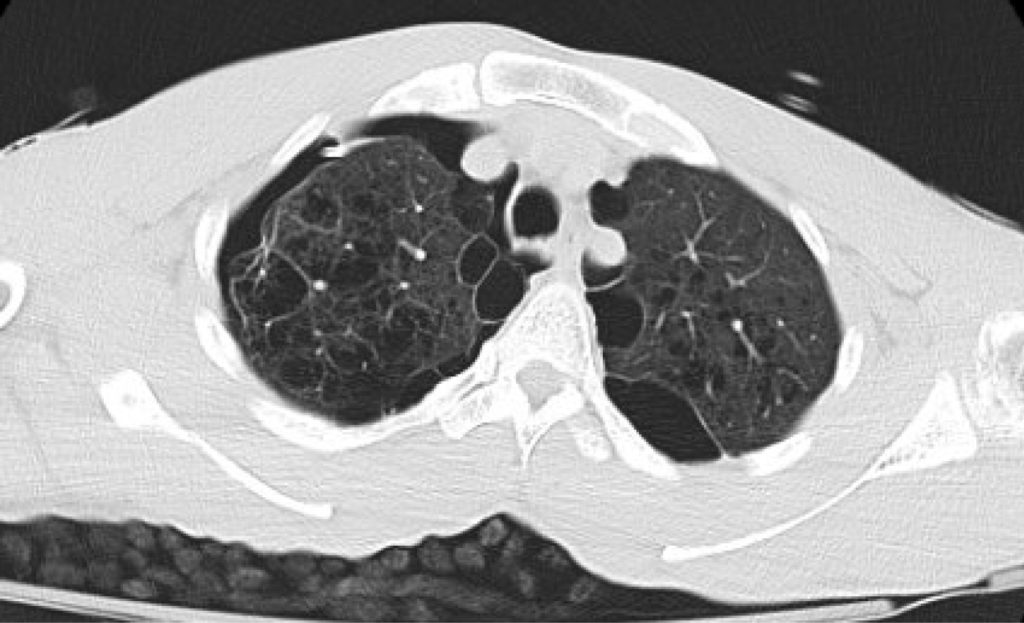 The patient underwent a video-assisted thoracoscopic surgery (VATS) for blebs stapling and pleurodesis.
A repeat CXT after the surgery showed successful re-expansion of the lungs. Since the patient had recovered well, he was discharged with advice to follow up in the outpatient after smoking cessation counselling.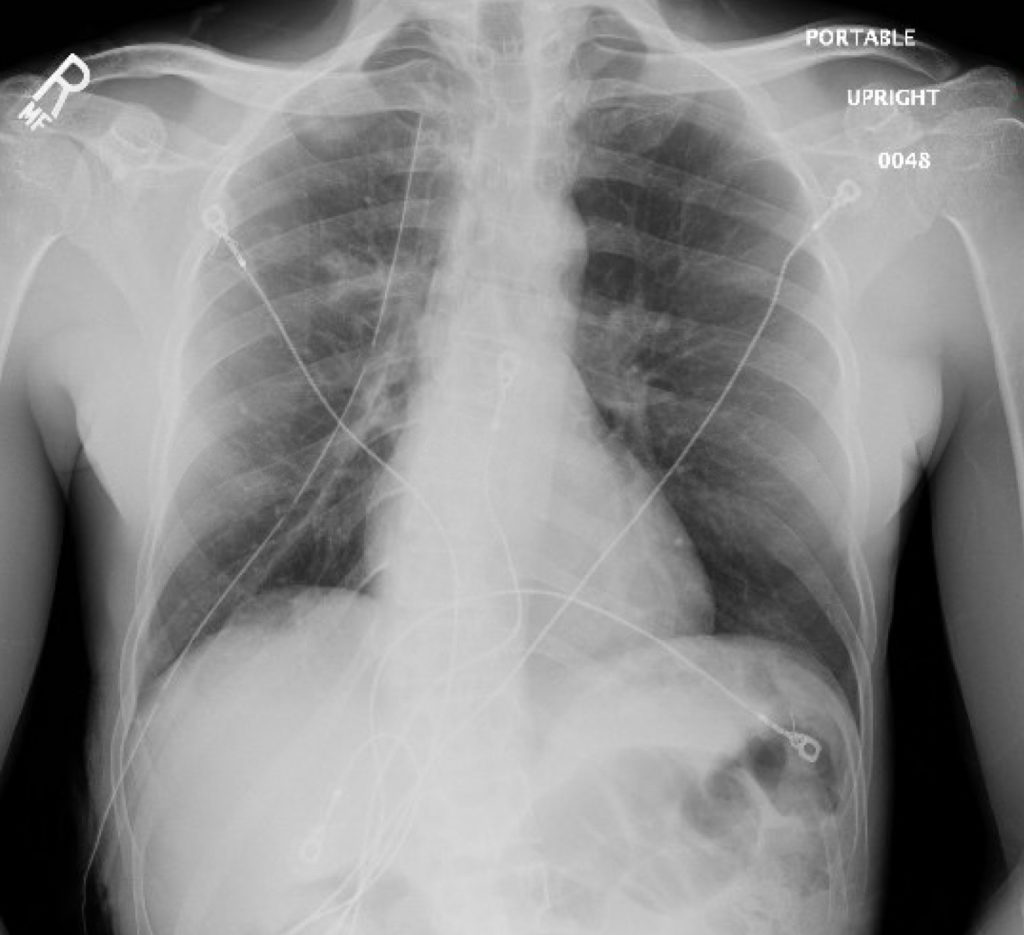 References:
Aboulenain S, Dewaswala N, Bhopalwala H, Isaac S (2020) Recurrent Spontaneous Pneumothorax Secondary to Marijuana-Induced Extensive Bullous Emphysema. Int J Respir Pulm Med 7:141. doi.org/10.23937/2378-3516/1410141