Cardiovascular diseases contribute to 35% of deaths every year worldwide, thus are the leading cause of death. Unhealthy lifestyle choices recruit major health risks for modern standards of society. Nonetheless, it reflects the necessity to discuss the medical and surgical advances in cardiology. 34th World Congress on Cardiology & Heart Diseases is all about this concern!
Conference Series LLC LTD holds Cardiology Congress 2022. It looks ahead to the progress of heart conditions and relevant research. The 34th World Congress on Cardiology & Heart Diseases Conference offers exceptional sessions and presentations. Above all, they are for all levels of educational and networking opportunities with leaders within the field. One of the most intriguing features of this scientific symposium is that they cover a broad spectrum of subspecialties. Moreover, the event also allows attendees to submit their abstracts and present their work to fellow colleagues.The poster sessions feature the most recent emerging cardiovascular research and initiatives. Thereafter, the interactive lunch workshops take breakout sessions to the subsequent level.
Theme of Conference
The 34th World Congress on Cardiology and Heart Diseases is to be held on July 18-19, 2022 Vienna, Austria. The theme of this hybrid edition is 'Exploring New Research and Frontiers in Cardiology Care'. The speakers on the platform will speak about cardiology and heart diseases, vascular systems and current research on cardiology. The in-depth detail for healthcare and pharmaceutical experts is likely to provide an outlet for improvement in patient care.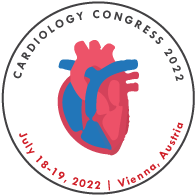 How to register?
The 34th World Congress on Cardiology & Heart Diseases looks forward to accommodating participants. Furthermore, the main audience of this world conference mainly includes researchers as well as healthcare and pharmaceutical experts and companies. The audience also includes scientists, epidemiologists, physicians, surgeons nurse practitioners and professors. Moreover, health care analysts, business delegates, advertising executives, and media personalities are also part of the guest list. This conference targets the international cardiology, cardiac surgery, and cardiovascular community. You can also become a part of this summit by registering here!
Promotion & Network
34th World Congress on Cardiology & Heart Diseases also provides a moment to cherish and network through the gala dinner. Prestigious time with the world-recognized professionals of cardiology will provide better insight into the research of this speciality and advances in the art of medication and surgery.
This cardiology conference provides a platform to encourage the control and prevention of health against any cardiovascular diseases through a full range of data and access to the best education.