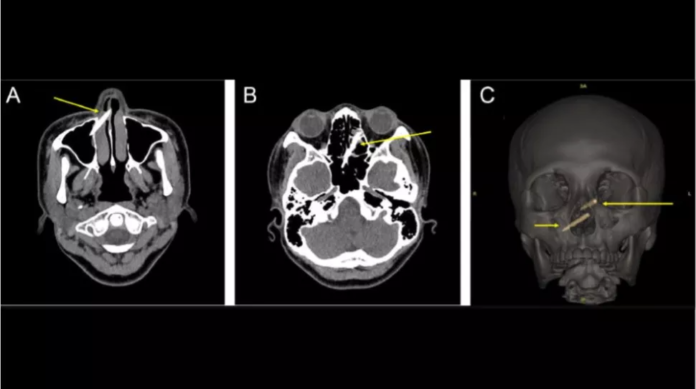 Unusual case of chopsticks penetrating the nasal cavity
Nasal foreign bodies are a common encounter in the emergency department. Especially in the paediatric population. However, it is also seen in adults psychiatric illnesses and disabilities. The foreign bodies often present acutely and can remain in the nasal passages for days, weeks and even months. In an unusual case, a woman in Taiwan had two chopsticks lodged in her sinuses for a week after she got into a violent fight with her sister at the dinner table. ترتيب البوكر The 29-year-old presented to the emergency room after being "attacked by her sister with plastic-wood chopsticks".
After the attack, the woman experienced a mild nose bleed and swelling in her left eye. The patient was conscious when she presented to the emergency. شرح لعبه البوكر Examination showed that the patient had two small cuts under her eye and nose. For further evaluation, her doctor advised an X-ray which showed no abnormal findings. كيف تربح المال من النت All other examination findings were normal.
Although, a week after the incident, when the woman looked into the mirror, she could see a grey object in her nose.
She also noticed that "some parts of the chopsticks used in the attack were missing," deeming the injury more serious than it appeared. A week later the patient presented to the otolaryngology clinic with a suspected nasal foreign body.
On rhinoscopic examination, her doctor saw remains of the plastic-wood chopsticks penetrating her nasal septum, a wall that divides the two nasal passages. Her doctor further advised a CT scan which showed one chopstick penetrating the nasal septum via the left nasal cavity. Whereas the other was seen penetrating through the left anterior ethmoid sinus to the sphenoid sinus. There were no signs of sinusitis or orbital cellulitis evident.
The chopsticks were found entering the woman's skull through the ethmoidal sinuses, located between the corner of the eye and bridge of the nose. This route is also used for surgery on ethmoid sinuses, for treatment of sinus infections. The chopsticks in the lower region were directly pulled out. And the fragments were surgically removed after careful oral intubation with no complications and an uneventful recovery period.
According to the report, the chopsticks removed were about 1.4 inches (3.5 centimeters) and 2 inches (5 cm) long.
References
A Woman with Missed Nasal Foreign Bodies Caused by Tiny Facial Laceration Wounds https://www.sciencedirect.com/sdfe/pdf/download/eid/1-s2.0-S0736467921004017/first-page-pdf