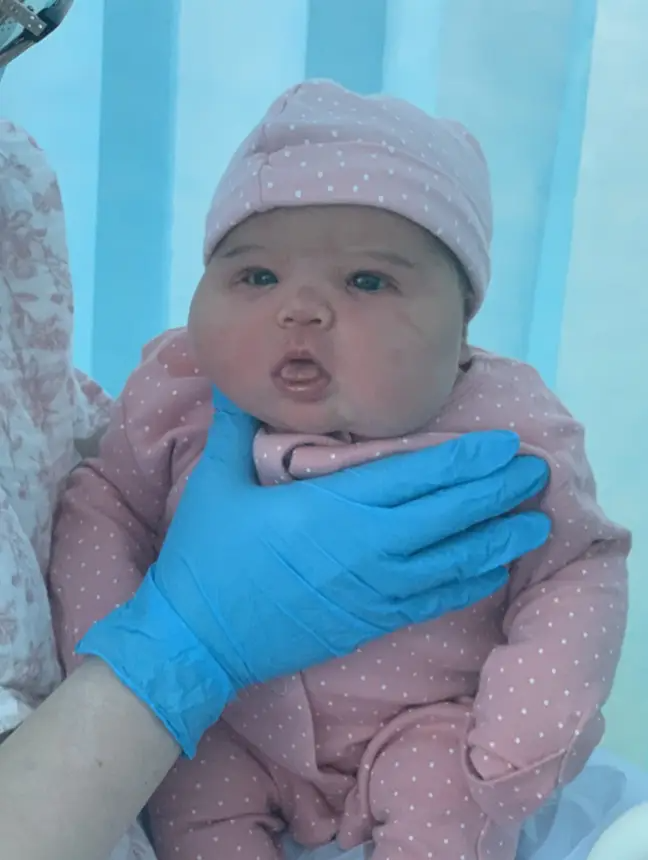 Woman gave birth to UK's second biggest baby!
A mother in the UK gave birth to an infant weighing 12lb 14oz. What's more, the baby is believed to be the second biggest baby ever born in the UK. When the baby's mother Amber Cumeberland was pregnant, doctors believed she was carrying twins because of how huge her baby bump was.
Amber gave birth to her 12lb baby girl, Emilia on the 16th of April. She was the second largest baby born after baby weighing 14lb 4oz was born in 2012 in the UK. Amber actually started to believe she was going to give birth to twins because of the number of times the doctors had mentioned it. "We heard it so much we actually started to believe there was another one hiding in there," said the 21-year-old mum.
"Doctors thought it was twins during pregnancy because she was so big, even though we could only see one on the ultrasounds".
Emilia was the size of a 36-week baby by her 32nd-week scan. And she grew an extra 8lb on by 36 weeks. Emilia was born via a cesarean section after being in labour for 24 hours. She was about eight centimetres dilated and could not go any further. If she did she would not have been able to get back up. Moreover, the baby was at a risk of getting stuck.
"During the C-section, it took two people to lift her out and one to hold everything back to get her out". Emilia was so big that even her clothes didn't fit her. "The whole outfit we brought didn't fit her but luckily we had some spare 0-3 month clothes packed and the hospital staff had to hunt down bigger nappies from paediatrics for us," said Amber.
The size of the bump also resulted in several stretch marks on her skin.
Amber's skin was so weak from being stretched that she would often also bleed because of standing up to quickly. She further added, "my stomach muscles completely split to the point where the doctors could barely distinguish them during the C-section and said they were the worst they'd ever seen. In addition, she also suffered from sciatica because of a compression of nerves in her legs and hips. Amber is on a tough road to recovery and expects it to take a while. She still feels as uncomfortable as she felt when she was pregnant, but, both parents are overjoyed with their gorgeous little girl.
References
Mum Gives Birth To The UK's Second Biggest Ever Baby https://www.ladbible.com/news/uk-mum-gives-birth-to-second-biggest-baby-in-the-uk-weighing-12lb-14oz-20210428