The pioneer edition of the Warsaw Students' Neurosurgical International Conference is here! This conference aims to connect like-minded individuals worldwide through lectures, presentations, and workshops revolving around neurosurgery. Become a part of WSNIC'2023 and create life-lasting connections with highly experienced and well-recognized neurosurgeons. This conference is all about keynote lectures, poster presentations, workshops, and socializing. 
When and Where?
The Warsaw Students' Neurosurgical International Conference will take place at the Medical University of Warsaw on October 27–28 in Warsaw, Poland. This is an in-person conference, as it aims to provide an opportunity for each attendee to make the most of the event. Since WSNIC 2023 is an international conference and will bring attendees from all over the world, the conference will be held in English.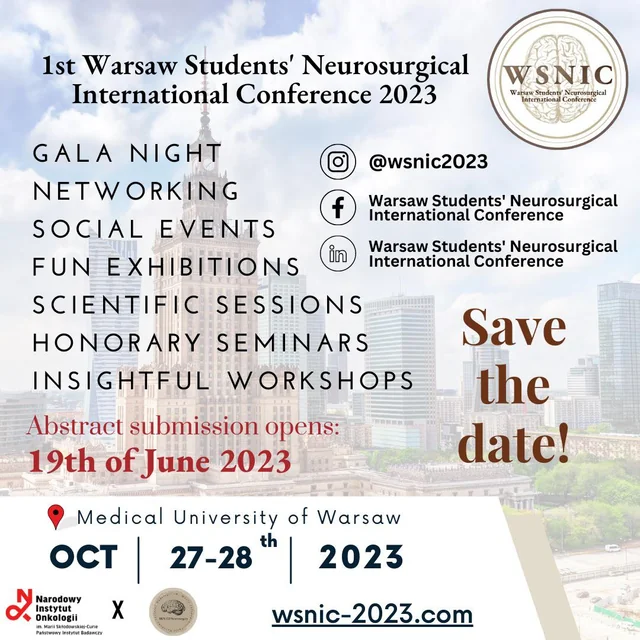 Theme of Conference
The theme of WSNIC is Neurosurgery in Evolution. Under this theme, the conference will acknowledge and honour the initiatives of neurosurgery. Furthermore, the conference will reveal, discuss,,, and embrace the future advances and innovations in the field of neurosurgery. WSNIC aims to bridge the gap between the old and the new generation by bringing together neurosurgeons and aspiring neurosurgeons. Aspiring neurosurgeons can attend quality workshops to have first-hand experience of knowledge and understanding. Moreover, they can attend keynote lectures showcasing the latest developments in the field. With in-person attendance, the young generation can foster collaboration with esteemed professionals from the field of neurosurgery. The conference will entertain case reports in a PowerPoint presentation. There will be several concurrent sessions running throughout the conference, allowing attendees to customize their experience and attend sessions that are most relevant to their interests. 
Skills in Focus
Warsaw Students' Neurosurgical Internal Conference 2023 aims to revolutionize the concept of neurosurgery academics and research! However, it instills working skills throughout the conference. These skills include the evolution of neurosurgical techniques, fostering connections with professionals, and pioneering future neurosurgical techniques. With these skills, each attendee at the conference learns and networks simultaneously. 
Let's Socialize at the Gala Dinner
An academic and research conference is incomplete without an opportunity to socialize. On the first day, attendees will enjoy a bonfire night. However, authenticity depends on the weather forecast. On the second day, they will entertain with a gala dinner.
This conference aims to bring about novel and revolutionizing knowledge to the attendees to further develop in the speciality of neurosurgery. The attendees will have the chance to meet with specialists in neurosurgery and gain valuable knowledge that will benefit their future aspirations