Nature often leaves us awestruck by rearing insoluble realities. Disagree? Well, you might not after seeing a breathing werewolf.
Lalit Patidar, a boy from Ratlam in Madhya Pradesh, India, was born with some of the most unusual characteristics for a neonate. Although his initial cry and birth movements were pretty normal, he had his body wrapped up in an incredible amount of hair. The joy of giving birth dwindled slightly to say the least, as his parents were left stunned at such an unusual addition to their family. The boy became a focus without delay.
What Triggered The Werewolf? Was it a Twilight Saga?
It's difficult to limit one's imagination after spectating such a prodigy (a twilight miracle is never out of the equation). For this boy however, it was a medical condition that changed his life forever. He was diagnosed having hypertrichosis popularly known as the Werewolf Syndrome.

Hypertrichosis is a condition in which there is excessive growth of hair on different parts of the body giving the person a wolf-like appearance. The abnormal hair can be localized to a specific part of the body or the entire body can display long and thick hair.

The body suffered from congenital hypertrichosis as opposed to its developmental form in which the abnormal hair are acquired over time. Moreover, it was "Congenital Hypertrichosis Terminalis" that had struck the boy. It is different from Congenital Hypertrichosis Lanuginosa in which the body gets covered up in fine soft hair (lanugo).
What did the doctors have to say?
Lalit was examined by a team of doctors in Baroda Hospital. After a few failed attempts to get rid of the excess hair, the doctors concluded that his condition was incurable and that the boy had to live with his eccentric condition.
Growing Up Had Never Been More Difficult.
We are always attracted towards the bizarre but our responses are either of the two: support or bullying. Unfortunately, the boy had to deal with an immense amount of bullying for the most part of his life because of his strange appearance. He was made to feel different and abandoned.
"I sometimes wish to have some surgery to get rid of excess hair because I want to be friends with everyone. They shouldn't hesitate to play with me. If I didn't have hair I'd be fine. No one would bully me."

Lalit Patidar (boy who lives with a Werewolf Syndrome)
Time Brought in Peace at Last.
Although Lalit always received great love and support from his family, it took some time for other people to accept him and give him his due place in the society.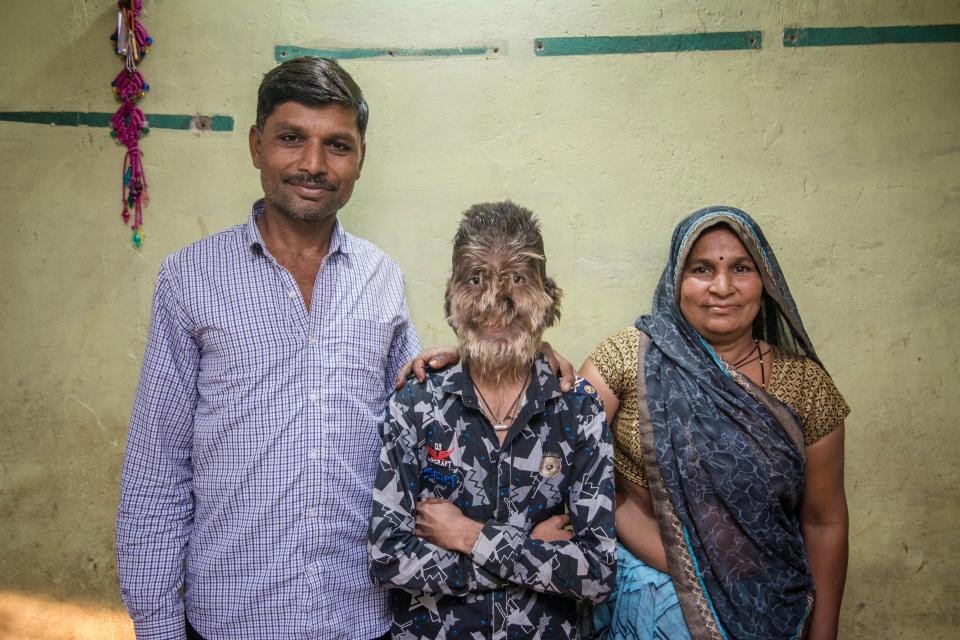 Lalit is now 13 and pursuing his education. He is quite good in studies and the school loves him. He wants to become a policeman and has made some good friends to support and help him on his journey.
References.
1- https://www.mirror.co.uk/news/world-news/schoolboy-13-werewolf-syndrome-entire-13970101