One-year history of stiff ears, gradually becoming stony hard.
A 53-year-old man presented to the outpatient department with complaints of diarrhea, tiredness, generalized weakness, intolerance to cold, and decreased mental function fro the past 6 months. The patient also complained of stiffness in his ears for the past 1 year, which he described as if his ears were "turning to stone."
The patient had consulted many physicians for the unusual stiffness in his ears, but all efforts ended in smoke.
On examination, his skin was pale, periorbital puffiness was noticed, and pubic hair was absent with soft testes. Chovstek's sign was negative and there was no carpopedal spasm. His ears were generally stiff.
Neurological examination revealed:
Absent ankle jerk
Extensor plantar response
Positive Rhomberg's sign.
Serological investigations revealed
Sodium 128 mEq/L
Potassium 3.3 mEq/L
Calcium (corrected) 7.2 mEq/L
Phosphate 1.8 mEq/L
Magnesium 1.5 mEq/L
Cortisol 0.20 μg/dl (normal 5–23 μg/dl)
Free T3 1.67 pg/ml (normal 2.3–4.2 pg/ml),
Free T4 0.69 ng/dl (normal 0.7–1.51 ng/dl),
TSH 5.33 (normal 0.5–5 μU/ml),
Positive TPO (106.3 IU/ ml),
Prolactin 47 ng/ml (normal 4–30 ng/ml),
Testosterone 76 ng/dl (normal 241–827 ng/dl)
Vitamin D insufficiency was noticed with a 25-hydroxy vitamin D level of 26 ng/ml (30–74 ng/ml). iPTH level was 20 pg/ml (10– pg/ml).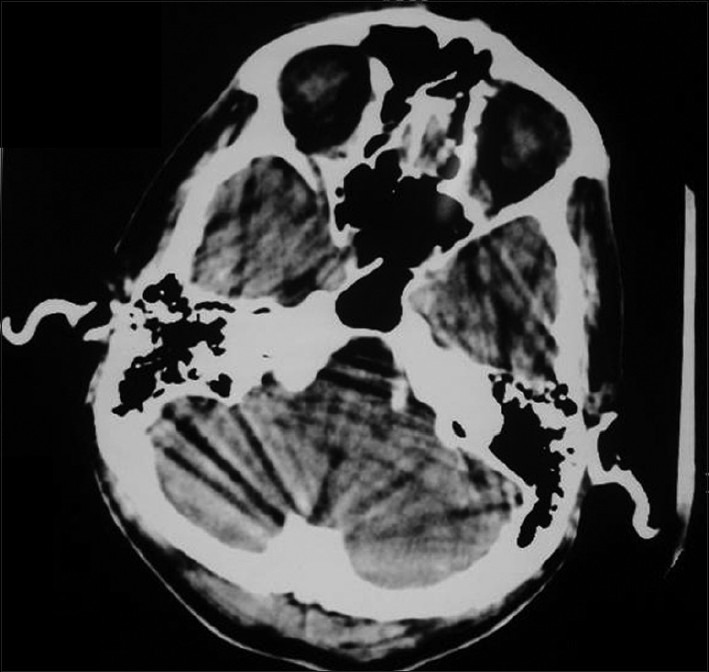 Imaging studies were done. A non-contrast CT scan of the head showed auricular calcification but no basal ganglia calcification. Contrast-enhanced magnetic resonance imaging of sella showed partially empty sella with normal stalk. Vitamin B12 levels were low–normal with a value of 311 pg/ml (normal 187–1059 pg/ml).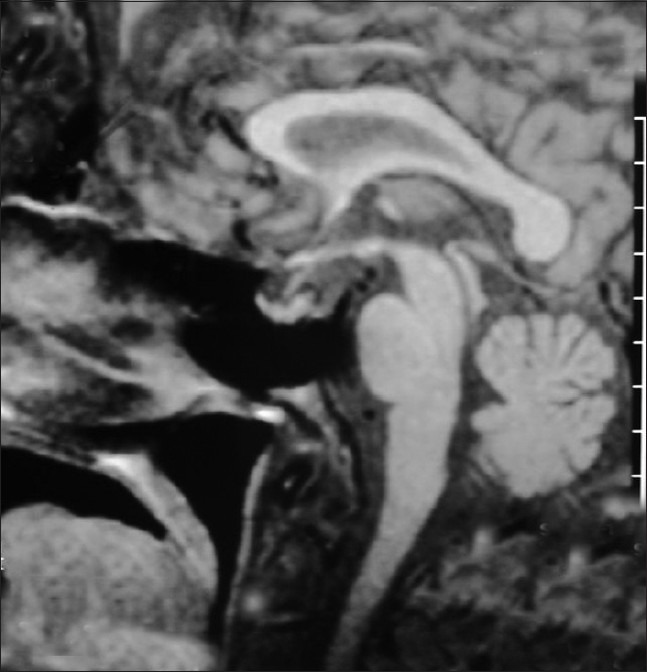 The echocardiography revealed global hypokinesia, dilated cardiomyopathy, and an ejection fraction of 35–40%.
A diagnosis of idiopathic adult-onset pituitary insufficiency with associated auricular calcification.
Intravenous hydrocortisone and l-thyroxine were initiated. Testosterone replacement, vitamin B12 supplementation, ACE inhibitor, and beta-blocker were also added to his treatment regimen. Tha patient showed substantial recovery. His overall health improved, and the patient became asymptomatic except for the stiff ears, which remained unchanged.
References
Yashpal Gogate, P. G. (2012, sept-oct). "Petrified ears" with idiopathic adult-onset pituitary insufficiency. Retrieved from Indian J Endocrinol Metab: https://www.ncbi.nlm.nih.gov/pmc/articles/PMC3475916/

Howlett TA, Levy MJ, Robertson IJ. How reliably can autoimmune hypophysitis be diagnosed without pituitary biopsy? Clin Endocrinol (Oxf) 2010;73:18–21