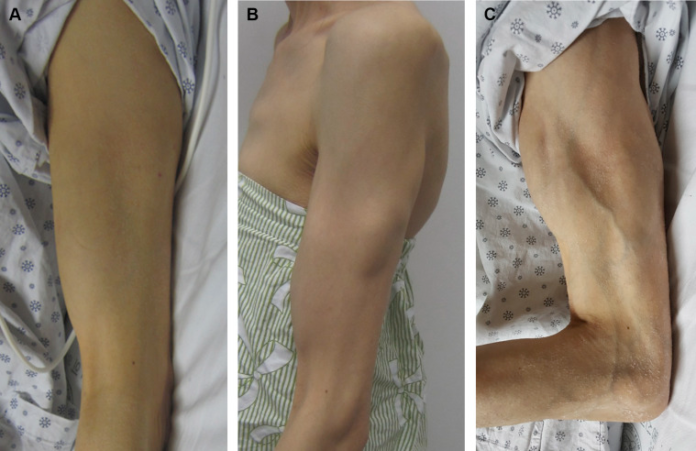 Case of stiff-person syndrome in a 55-year-old previously healthy woman
Stiff-person syndrome is a rare syndrome that affects the nervous system, especially the brain and the spinal cord. Symptoms include painful spasms of the trunk and limbs, rigidity, muscle stiffness and severe mobility impairment. Similarly, the spasms are so strong that the force can cause a bone to fracture. People suffering from this condition also have heightened sensitivity to nouse, emotional distress and sudden movements that can cause muscle spasms. The symptoms also lead to an abnormal posturing of the spine, causing a hunched posture.
This article describes the case of a 55-year-old previously healthy woman with progressive rigidity in her lower limb muscles with a history of 1 year. She complained of constant pain in both sides of her thigh which also made it difficult for her to walk. She would also occasionally fall to the ground because of sudden spasms triggered by startle. For this reason, she required a walker to walk.
On physical examination there were signs of generalised rigidity, hyperreflexia in both her upper and lower extremities.
Cranial nerve, motor and sensory nerve examinations were all normal. Doctors further advised Magnetic resonance imagine (MRI) of the brain, cervical and thoracic spine, the findings of which were also normal. Other laboratory tests including, folate levels, vitamin B12 and thyroid function tests did not show any significant findings. Although, tests showed elevated levels anti-GAD antibody. According to the case study, "anti-GAD antibody was elevated at 93.57 U/mL. Electromyography showed continuous motor unit activity in agonist and antagonist muscle".
The patient's response to diazepam was favourable. Doctors prescribed her with 30 mg of diazepam per day, after which her spasms showed improvement.
The condition is thought to have an autoimmune component and is often secondary to diabetes and other autoimmune disorders, for example, pernicious anaemia, vitiligo and thyroiditis. While some patients with stiff-person syndrome may be able to maintain reasonable levels of activity, most become disabled over time.
References
Stiff-Person Syndrome: Case Series https://www.ncbi.nlm.nih.gov/pmc/articles/PMC4051723/