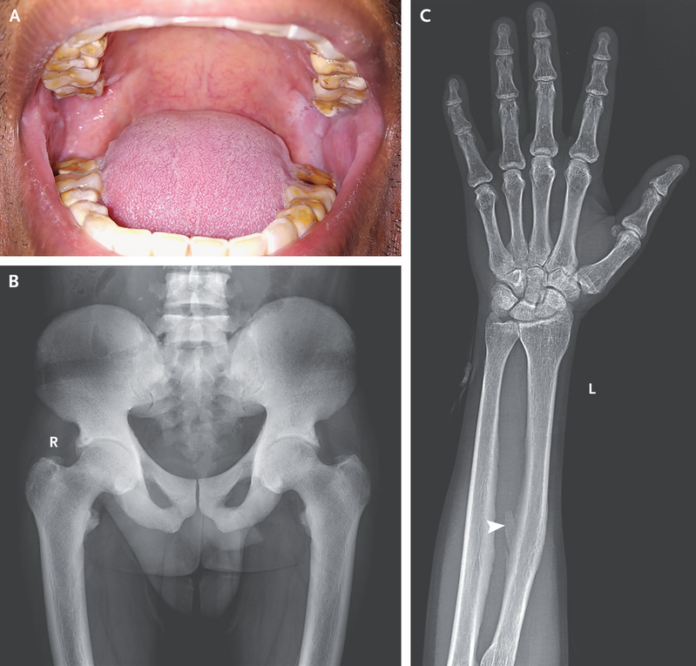 Case study: skeletal fluorosis
A 32-year-old male patient presented to the rheumatology clinic with chronic lower back pain and stiffness in the neck, shoulders and hips. Examination showed that the patient had yellowish-brown tooth discolouration with restricted movements of the cervical spine, hips and shoulders. The patient was diagnosed with skeletal fluorosis.
Doctors referred the patient for a pelvic radiography which was significant for osteosclerosis without sacroiliitis. Laboratory tests were significant for increased alkaline phosphatase level and parathyroid hormone level. However, the levels of creatinine, calcium and vitamin D were within normal range. Doctors suspected skeletal fluorosis because the patient lived in an area with high levels of fluoride in the groundwater. Radiography of both the forearms showed interosseous membrane calcification. Serum fluoride levels were also high, whereas 24-hour urinary fluoride excretion was 7.5 ppm. These findings confirmed the diagnosis of skeletal fluorosis.
Treatment and prognosis
Doctors advised the patient to defluorinate his drinking water and treated him with calcium, vitamin D and nonsteroidal antiinflammatory drugs. Two years later the patient reported a 50% reduction in pain and stiffness.
Endemic skeletal fluorosis is a chronic metabolic diseases of the bone and joints caused because of ingesting large amounts of fluoride, especially through water. Fluoride is a toxin that alters the resorption of bone tissue. Similarly, also affects homeostasis of bone mineral metabolism. The clinical course of disease is characterised with immobilisation of joints of the axial skeleton and major joints of the extremities. In some cases, the characteristic bone changes are also accompanies with secondary hyperparathyroidism.
In most cases of skeletal fluorosis, serum parameters rarely help with diagnosis. Common indicators of fluoride toxicity include elevated urinary fluoride and increased bone fluoride content. Fluorosis, although crippling, is a preventable disease. But there is no effective therapeutic agent available for treatment of the disease. While the disease is on the increase globally, early diagnosis significantly depends on bone density measurement.
Source: NEJM