A 5.5-year-old girl presented to the clinic with short stature. Her father adopted her when she was 3.5 years old. However, the mother did not approve of her adoption, hence she was neglected.
A father brought her 5½-year-old girl to the clinic with complaints of short stature. Father revealed that he adopted her when she was 3.5 years old. She was a shy kid who preferred playing alone. She avoided playing with other kids. However, otherwise, she was a well-behaved child. Father accompanied the patient, but the mother did not. Father's main concern was that she is neither gaining weight nor getting tall despite having a voracious appetite.
During the past 3 years, she had an increased appetite. She would crave food and subsequently steal food from her peers' lunchboxes. Moreover, she had a habit of hoarding food and would get up at night to eat. As an example, the father told the doctors that she would eat a dozen bananas at a time.
Moreover, besides her appetite, another concern was that her foster mother was not in favour of adopting her, therefore, the girl felt neglected and unwanted.
On examination, she was a thin, lean girl weighing 10.5 kgs. Moreover, she was only 91.6 cm tall. In other words, she was below the 3rd percentile. Additionally, she had hypertrichosis. However, there were no other signs suggestive of malnutrition.
Serological investigations revealed normal CBC, liver and renal function tests, thyroid, and cortisol levels. However, her peak growth hormone (GH levels) on clonidine and insulin-induced hypoglycemia tests were low (3.47 ng/ml and 3.24 ng/ml, respectively).
Magnetic resonance imaging of the pituitary was normal.
Initially, before the detailed history outlined her hyperphagia, the doctors had suspected isolated growth hormone deficiency (GHD). Therefore, they had started on GH therapy for the next 3 months with close follow-ups. However, the GH therapy showed no positive response. Thus, this forced the doctors to think of an alternate diagnosis. Consequently, they dug deeper into the history.
With her history, the doctors strongly suspected Hyperphagic short stature (HSS), a variant of Psychosocial short stature (PSS).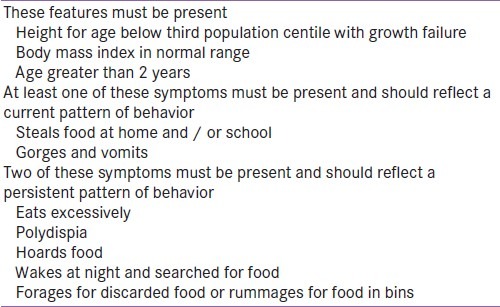 A repeat GH stimulation test with clonidine after 14 days of hospital stay, i.e., away from the psychosocial stress of her house, showed normal peak GH levels. Therefore, the doctors referred her to a psychiatrist who confirmed this diagnosis of HSS.
The psychiatrist advised a change of environment. Moreover, her parents were also included in the counselling sessions along with the patient.
Reference: Jagtap VS, Sarathi V, Lila AR, et al. Hyperphagic short stature: A case report and review of literature. Indian J Endocrinol Metab. 2012;16(4):624-626. doi:10.4103/2230-8210.98026